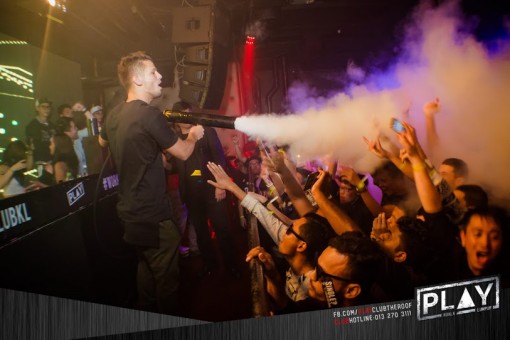 Italian brothers – Alessandro & Andrea Vinai are two producers that joined forces in 2011, conquering the worldwide scene with fierce progressive and catchy house grooves, known as big room bounce music. Definitely a name for the future, VINAI is only making bigger waves these days. With their recent appearance in Play Club at The Roof last week, we managed to catch up with the boys and had a little interview session before their set.
Concertkaki: Hello Alessandro and Andrea Vinai ! Welcome back to Malaysia! It is a pleasure to meet you!
Vinai: Thank you!
Concertkaki: So 2016, you guys kicked off with Asia Tour and the crowd was crazy about it especially in Tokyo; Electrox festival. How did you guys make that feel and fans to look forward to for the rest of your tour?
Vinai: We are super stocked! Asia is probably the best place in the world for us to play our music and our set and all the crowd is insane and there's so much energy and they love us. Our expectation is simply the same we have every time; the show we are gonna kill it and the show is always gonna be insane!
Concertkaki: Bounce Generation, Ravelogy, Lounder, the wave, and now Sit down, you guys have been producing massive tracks. Where did you guys get the inspiration from?
Vinai: The inspiration comes from different point. For "Sit Down" for example comes from the sit down. It is a festival things. "The wave" when we made " The Wave" which was the first one, we were like we need to do something that people will do automatically wave with their hands because so many DJs they do, i mean they do the wave with the hands but without a real hands and song to do that so we said why not do that and we made it. For "Sit Down" we did the same thing but using the sit down.
Concertkaki: You collaborated with Harrison to produce two amazing tracks "The Wave", & "Sit Down". What was it like working with him?
He is a cool guy, a good producer, a good songwriter and his voice is amazing. We discovered him for his record that he made with David Guetta in a party so, from the first listen we had to that song, we always say: One day, i want to do a song with him because his voice is insane! Now we made it!
Concertkaki: What can we expect from you guys in 2016?
Vinai: About records, we are producing like a more radio record now. We want to be more focused on radio, mainstream. It's different. We want more Pop, more pop. We want more people around the world because the club record you could reach apart from the people who listen to the radio but not everyone. For everyone to listen to it, you need the pop records. Thank you.