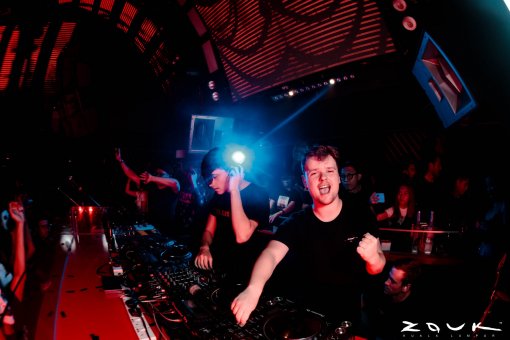 photo by Zouk Kuala Lumpur

Sub Zero Project are a Dutch Hardstyle Duo that consists of Thomas Velderman and Nigel Coppen whom are 23 and 22 years old respectively. The group started off with Nigel, who started a solo career where he made music under the name Sub Zero. He then came across Thomas' music on Youtube, and approached Thomas to work together on a couple of tracks. They added a "Project" behind the original "Sub Zero" name to make it clear that they were producing music together as a duo now.
It's been a pleasure to be able to have an interview session with the Sub Zero Project just hours before their performance at Zouk Club Kuala Lumpur.
Concertkaki: Hello Thomas and Nigel, welcome to Malaysia! As this is your first time in Malaysia, and considering the delay of your flight, how do you find Malaysia so far?
Sub Zero Project: When we arrived, we just went to the hotel and to the club straight after. We have heard so many exciting things about Zouk Club Kuala Lumpur from our colleagues and are so excited to play here. Honestly, we do not know what to expect so i think it will be good!
Concertkaki: On the 29th of March, Sub Zero Project revealed their debut album "Contagion". Tell me a little bit about the concept of the album and how you guys came up with the idea for it.
Sub Zero Project: Ever since 2013, we have been doing live acts and have made "projects" every single year. This year was no different and that is why we came up with "Contagion". We wanted to do something special with "Contagion" and it is cleverly incorporated into the live show. It is going to be one big story and we hope that we will be able to infect the world with our sound.
Concertkaki: There are 10 million Spotify streams on "Contagion". What are your thoughts on the success of this production?
Sub Zero Project: Contagion" was our very first album and we did not know what to expect from it. In the end, we were so happy with the results from it – like you said, we achieved 10 million streams in 6 months which is so great.
Concertkaki: So you guys collaborated with Christina Novelli on the song called "The Contagion". What was it like working with her?
Sub Zero Project: It was really cool to work with an artist from another genre. Christina is an artist who focuses on the trance genre and we made sure to combine her style into our track. The track has a lot of trans influence, and we have Christina to thank for that.
Concertkaki: What does "Contagion" mean to you guys?
Sub Zero Project: "Contagion" to us is infecting people. Our album is made to infect the world with our sound and that's where the name comes from.
Concertkaki: We've heard about "Be My Guide", the final single that you guys have released recently. Could you tell us more about this new track?
Sub Zero Project: "Be My Guide" truly is something else. We usually do party stuff, but "Be My Guide" was a track with a deeper meaning behind it. It is one of our only tracks with an emotional melody.
Concertkaki: You've been playing in many international festivals around the world, were there any venues that you've played at that you feel is unforgettable?
Sub Zero Project: Defqon is an example of one of our unforgettable venues. We played on the main stage with a sell-out crowd in front of us. Not only that, the sun was setting thus giving our set a crazy vibe. There are just too many good moments from our time spent performing overseas to choose from, but Defqon was definitely one of them.
Concertkaki: What are some of your favourite upcoming producers at the moment?
Nigel: Devin Wild, a really good friend of mine and i really like his stuff
Thomas: I will say D- Block & Ste-Fan