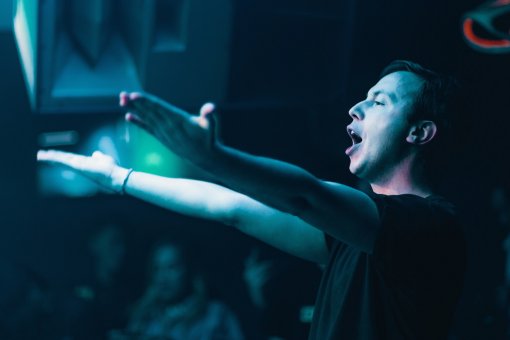 photos by All is Amazing!
Andrei Rață, or more commonly known as Andrew Rayel, hails from the small country of Moldova, which has a population of approximately 3.5million people. It may be a small country, but the impact he has had on music is truly admirable. Winding the clock back by a couple of years, Rayel started his EDM career at the tender age of 17, and was signed under the legendary Armin van Buuren's record label in no time. Rayel's most notable appearances came in large festivals like Ultra Music Festival and Tomorrowland, while having his tracks played by several famous DJ's like the aforementioned Armin van Buuren, Tiesto and Hardwell.
With all that said, we were lucky enough to secure an interview with the one and only Andrew Rayel during his time here in Malaysia. Special thanks to Heineken Malaysia for this exclusive interview!
Concertkaki: Hello Andrew! Welcome back to Malaysia, so this happens to be your 5th or 6th time back in Kuala Lumpur, how does it feel to be back?
Andrew: Yeah, I came to play at ZoukIn about a year and a half ago? But I've been to Kuala Lumpur so many times, the first time being way back in 2012. Talking about coming back to Malaysia, yes of course I'm excited to be back, Malaysian crowds are always the best. In fact, I think my first fans ever happened to be Malaysians, Indonesians and Asians in general. Malaysians were the first people to really get into my music, and to support me and I am really happy to be here again to present my new music along with my new shows, and just to have fun with them again.
Concertkaki: We heard that you've just come from Creamfields in Shanghai a couple of days ago. Would you like to share the experiences you had there?
Andrew: Oh it was great! It was a great show, a massive show. The movement for EDM in China is growing rapidly, with lots of festivals happening there. Not only that, the increase in festivals means that we as artists will be getting a lot more bookings, which also gives us the chance to discover that culture as well, which is awesome. Because before this, China was closed to the outside world, and people would not really listen to EDM. Now we just got ourselves a new bunch of people who are getting into EDM. Going back to the question, Creamfields was amazing, there were like 10,000 people there, and I got to play all my latest music for them. What else can be better than that?
Concertkaki: With all that said, how do you think European music festivals differ from festivals in Asia?
Andrew: The main difference has to be the crowd. This happens because every country and culture approaches music in a different way, and I think Asian crowds are very passionate about the music and they learn it very well by memorising the words and the lyrics. They don't come to the shows just because it's a big show and everybody has to be there. They are there to explore the music that they actually want to explore. Some European festivals are heavily marketed for the festivals, not for the artists. So the people go there just because it's a big festival and everyone goes there thus making it cool and you have to be there. With all that said, EDM has been in Europe way longer than it has been in Asia so people in Europe are – I don't want to say tired, but they already know everything about EDM, and its way harder to attract them with something that would surprise them. Asia is completely different, where EDM is still fresh, and they still consume music way faster and way easier as compared to their European counterparts.
Concertkaki: You launched inHarmony Music last year under Armada, how has it been being the boss of your own label?
Andrew: Its great! I mean I get to decide my own release schedules I get to find new talents, I get to plan everything around festivals and to make my marketing schedule the way I want it to be. Obviously I have my own vision for my music, and I get to sign artists that are close to the sound I like and the music that I play in my sets. It's awesome that only in a year, we've grown really fast into a proper label that already has established artists. We have guys like Mark Sixma, David Gravell as well as Chukiess & Whackboi whom are Malaysian. Amazing stuff, and I think that these guys are the future of EDM and trance music in general, and I am going to support them and push them to the next level.
Concertkaki: "Goyang" by Chukiess and Whackboi was released by your record label on the 2nd of November. How was it like to work with our very own local talents?
Andrew: Oh man it's awesome! At this point, it's only about producing and releasing their music on my record label, hopefully if they're going to do it really well and if they're going to release great music in the future, hopefully they'll come on tour with me as well. But at this point, it's nothing but great stuff from them, and they've been sending me new tracks of which I've played in my sets. Not only that, they've done a remix on one of my tracks, which I've had played for about a year now. We already released 2 of their singles (Kyrat and Goyang), on the label, which are also a part of my set now. They have a bright future, and Malaysian people should be proud of them.
Concertkaki: Well, there are only 2 more weeks till 2019, what should be expect from Andrew Rayel in 2019?
Andrew: Well, the main thing going for me now is to focus on my label, along with discovering and promoting new artists, as well as doing many bigger shows. In fact, I have a couple of collaborations coming up, and the only one I can announce now is collaboration with NWYR, which release in February of 2019. The rest is just pushing boundaries and, well, having fun!
Concertkaki: That's exciting to hear! Thank you so much for this interview, and we are looking forwards to your upcoming tracks.