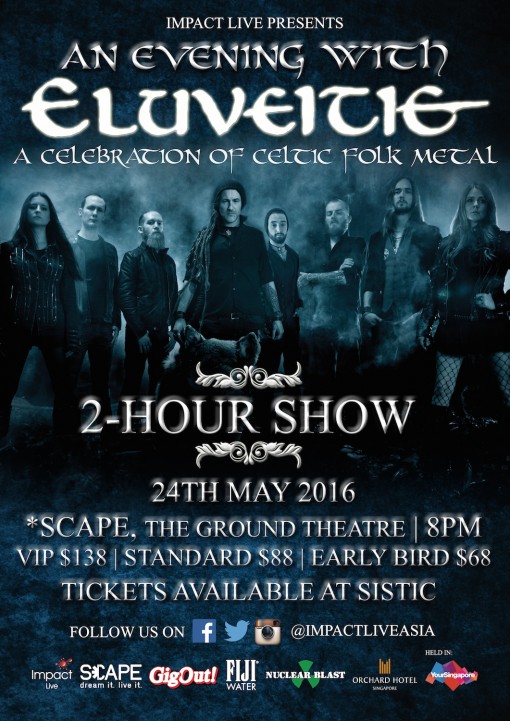 The world's preeminent proponents of melodic death metal and Celtic folkmetal "Eluveitie" are coming to Singapore for the very first time. The eight members of Eluveitie fill the stage while their exquisitely brutal music fills the room – Bonebreakingly heavy guitars and ferociously pummeling drums face off with whistles, hurdy gurdy, bagpipes, flute and violin to deliver a metal experience like no other. 
Formed in 2002 by Chrigel Glanzmann, Eluveitie breathes life into the historyand myths of Western Europe long ago with a mix of poetic beauty and intense onslaught. Heroic tales of Kings and furious battles are juxtaposed with serene narratives of lands lost and legends of bountiful Gods. 
Chrigel's guttural growl and Anna Murphy's beautiful soaring voice alternate over shredding riffs and ethereal melodies that will have you moshing one minute, dancing the next, and in blissed out rhapsody by the end of the show.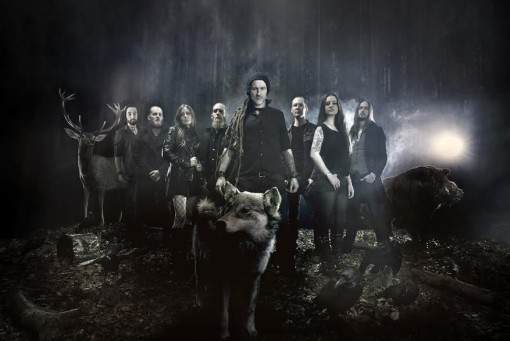 And what a show this will be! The band are very excited to present a 2 hour show featuring songs spanning their entire career, from the record that started it all, Vên, the first full band album, Spirit, the classics Slania and Everything Remains, right through to the band's most recent work, Origins. Along the way the band will offer many surprises including a unique acoustic interlude which will leave you dazed by its austere elegance. 
Eluveitie's shows are acknowledged as amongst the best in the world and the2016 tour is guaranteed to be extra special. 
And yes, Singapore Eluveitie made a special request to visit your wonderful cities for this tour and are very excited to be coming to play for you in 2016 –make sure you reciprocate their enthusiasm and get your tickets today! 
Show Info
Date: Tuesday, 24th May 2016
Venue: *SCAPE, The Ground Theatre
Showtime: 8.00pm
Doors Open: 7.00pm
Ticketing Info
VIP (incl Meet & Greet): S$138
Early Bird: S$68 (until 18th March or until sold-out)
Standard: S$88
At Door: S$108
All prices exclusive Sisitc ticketing fees.
All tickets are free standing
Tickets available at http://www.sistic.com.sg/events/celuv0516
& all Sistic counters on 18th Feb – 9am website and 10am counters
Hotline: +65 63465555
Sistic overseas authorized agents
Malaysia (counters only)
Holiday Tours & Travel Sdn Bhd (Kuala Lumpur, Malaysia)
Holiday Tours & Travel Sdn Bhd (Subang Jaya, Malaysia)
JY Travel Sdn Bhd (Johor Bahru, Malaysia)
Sin Chung Tours Sdn Bhd (Johor Bahru, Malaysia)
Indonesia (online and counters)
Online:
http://booking.kiostix.com/booking/Booking.do?contentCode=celuv0516
Hotline: +6221-717-93750
Counters:
KiOSTiX @ Cibubur Junction
KiOSTiX @ fX Sudirman
KiOSTiX @ Lippo Mall Puri
KiOSTiX @ Mal Artha Gading
KiOSTiX @ Mall Alam Sutera
Follow us on social media for latest concert updates and free goodies!
Impact Live
Facebook: ImpactLiveAsia
Twitter: @ImpactLiveAsia
Instagram: ImpactLiveAsia
Proudly presented by Impact Live (A Division of Impact Entertainment Group Pte Ltd)