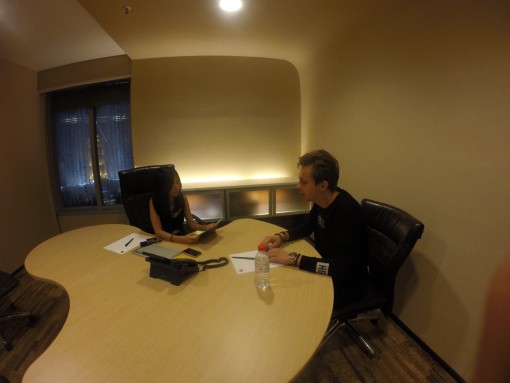 Russian sensation, ARTY, has emerged himself into the EDM World with many supports from top DJs such as Armin Van Buuren, Skrillex, Avicii, Tiesto, Above & Beyond and many more.
The first artist signed to Insomniac/Interscope Records, Arty, has been enjoying one of his best years to date, playing the world's finest festivals and nightclubs to debut his "Up All Night" tour concept, while captivating music lovers with his hit single, "Up All Night" featuring Angel Taylor, off of his highly-anticipated debut album. In the midst of this and the release of the official music video for his remix of OneRepublic's "I Lived," he's been in the studio diligently working with the industry's top songwriters/singers to complete his debut album. With a packed schedule for the rest of the year including more releases and tour dates, Arty and his fans surely have more than enough to look forward toARTY is well known for making collaborations with many well known artist such as Mat Zo and Angel Taylor to name a few.
With his recent appearance in Gravity Club, Mid Valley Gardens last week, we managed to catch up with him and had a little interview session before his performance.
Concertkaki : Considering this is your first stop in Asia for your Up All Night tour, can you tell us a little something about what to expect from this tour?
ARTY : Well I have been in Asia a couple of times before, so I know exactly what to expect, just good times. Asia is definitely one of my favourites, to be exact, my top favourite, and I am pretty happy to come back again. I have always love Kuala Lumpur and I can only expect to have a good time and enjoy myself here.
Concertkaki : We would like to know about your recent collaboration with Angel Taylor, how did it all happen and how did you two discover each other?
ARTY : Well, that's the part of the job that my musical management does who is from Interscope, so you know having a management who is running one of the biggest pop labels of the world, you have a lot of opportunity to go to that particular singer. The good thing about me, Angel Taylor, and Toby Gad, is that we wrote this song together at the studio at the same time and we finished it within a couple of days!
Concertkaki : Wow, that was fast!
ARTY : Yeah! It was a good thing because you don't feel disconnected among each other so yeah, it was a true song because the lyrics means a lot to all of us.
Concertkaki : How did you personally felt about your remix of Porter Robinson's Lionhearted that has reached 1 million on SoundCloud?
ARTY : I felt good! I mean, I had so much respect for originals so when I decided to remixed it, I choose not to change a lot of things to make it sound decent, something that I can play on my set. If i looked at the project, it took me around 6 hours of just work and getting things done. It was insane, it was a lot of work to do, but I am pretty happy with the results and so does Porter. He thanked me a couple of times, and I thanked him for giving me the opportunity to do that, so everybody is happy.
Concertkaki : Who are your main inspiration?
ARTY : It is hard to say, but recently, I must say it would be from Porter Robinson. Especially from that remix, I had so much inspiration from it and it was a good feeling. Other than that, Coldplay's latest album has been a huge inspiration as well, their songs are good and I loved it.
Concertkaki : How did you come up with the idea to remix I Lived, by One Republic?
ARTY : Interscope approached me and they asked me to remix it. When i first heard the lyrics, it means so much to me because it is so relatable and there are so much power in the music. I had a really strong idea about the remix since I received the email from my management. It worked out pretty good and I am really happy with the results.
We would like to thank Gravity Club Kuala Lumpur, for giving us an amazing opportunity to get up close and personal with ARTY.