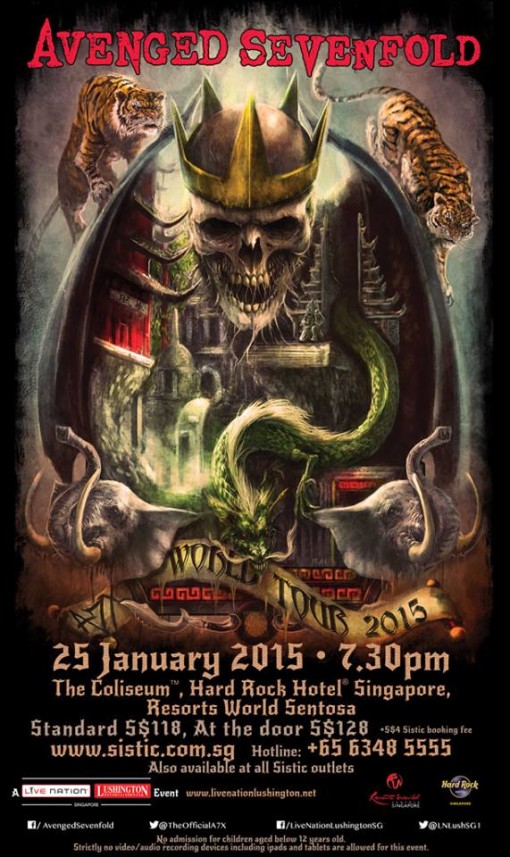 Chart-topping hard-rock act Avenged Sevenfold have announced that they will make a triumphant return to Southeast Asia in January 2015. The three-week visit, A7X's first to the region since 2012, will include shows in Korea, Hong Kong, Taipei, Jakarta, Bangkok, Kuala Lumpur, and Singapore. The band will then return to the United States for their first ever performance on the islands of Hawaii.
The Huntington Beach, CA-bred band has achieved worldwide success with a string of
best-selling albums, and are touring in support of Hail To The King, which topped the Billboard Top 200 Albums chart upon its release, making it the band's second consecutive No. 1 debut. They've earned Diamond, Platinum, and Gold awards for their album sales in nearly a dozen countries, and
Hail To The King went to No. 1 in Brazil, Canada, Finland, Ireland, and the U.K, achieved gold certification in the U.S.
In August, A7X set new records of attendance as headliner for the seventh
annual Mayhem Festival. The band also released their mobile action adventure role-playing game, Hail to the King: Deathbat, in October, which is now available in Apple's App Store as well as via Google Play. Deathbat is a 3rd person, overhead dungeon crawler action RPG in the vein of The Legend of Zelda and Gauntlet Legends. The game's story is based on the mythical origin of
the Deathbat, Avenged Sevenfold's logo and mascot.
Avenged Sevenfold is known for its spectacular live shows, routinely selling
out arenas worldwide, including the U.K.'s legendary Wembley Arena, and headlining some of the biggest and most prestigious music festivals around the globe, including Download (UK), Soundwave (Australia), and Rock On
The Range (USA). As evidence of the singular role they play in the zeitgeist of rock & roll in the 21st
appearance as characters in Call of Duty Black Ops 2 — the biggest-selling video game of all time, which featured the band's performance of "Carry On," written specifically for the game.
More information about A7X's Southeast Asia tour will be revealed soon. In the meantime, visit www.avengedsevenfold.com.
TOUR DATES:
01/12 Korea TBA (On sale November 6)
01/14 Hong Kong AWE Hall 10 (On sale October 29)
01/16 Taipei TPEC Gymnasium (On sale October 30)
01/18 Jakarta Parkir Timur Senayan (On sale November 6)
01/20 Bangkok Impact Arena (On sale November 15)
01/23 Kuala Lumpur Sunway Lagoon (On sale November 3)
01/25 Singapore Hard Rock Coliseum (On sale October 29)
01/27 Honolulu, HI Blaisdell Arena (On sale October 31)
AVENGED SEVENFOLD Live In Singapore 2015
Date 25 January 2015 (Sunday)
Venue The Coliseum, Hard Rock Hotel Singapore, Resorts World Sentosa
Ticket price S$118; S$128 (at the door) *+$4 Sistic booking fee
On-sale date 29 Oct 2014 (Wednesday) 10am
century, in November 2012 A7X made an unprecedented
Tickets available from www.sistic.com.sg, hotline (65) 6348-5555,
all Sistic outlets.