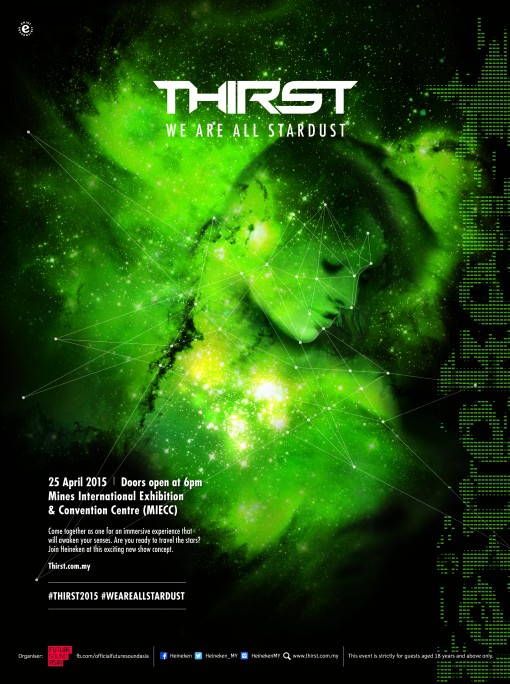 Heineken Thirst "We Are All Stardust" presents an interstellar experience at MIECC on Saturday April 25, 2015.
 Thirst returns with an innovative new show to delight its Malaysian fans. Thirst, We Are All Stardust will transform the MIECC at Mines Resort City into a cosmic spectacle featuring world class light shows, pyrotechnics and acrobatic performances alongside the sounds of Dash Berlin, R3hab, Goldfish & Blink, BATE, XU and Hulkas.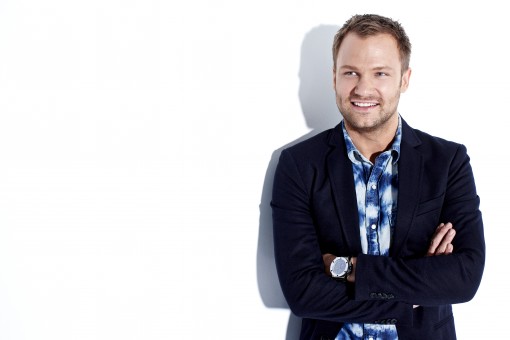 Earlier, on 10 March at KL Live, a specially invited audience was treated to an exclusive preview of this new show. Arriving at the blacked out venue, the crowd was treated to a warm-up set from Hulkas before being ushered to the stage area where Thirst 2015: We Are All Stardust was revealed.
To the amazement of the crowd, a group of cosmically costumed international dancers then rose from the audience and took to the stage accompanied by hypnotic visuals and laser light shows. The crowd was immediately immersed into the universe of Thirst "We Are All Stardust" with excerpts from the full show that will be premiered for music fans on April 25.
Events like the Heineken associated global Sensation parties have transformed the international dance music festival scene. With their emphasis on high quality experiences and theatricality, they have created an appeal that reaches beyond dance music's core audience and injected a new sense of engagement and adventure into the music.
"Heineken constantly strives to stay at the forefront of musical tastes and experiences," comments Jessie Chuah, Marketing Manager of Heineken Malaysia. "Thirst: We Are All Stardust" is a major step forward to create Malaysia's first home-grown high concept dance music event."
Thirst "We Are All Stardust" is the first time such a show has been specially designed for a Malaysian audience. A multinational team of experiential experts will spend days terraforming MIECC into an other-worldly experience. Textured video screens, lasers and Special FX will create a backdrop for thematically costumed dancers and performers to bring to life the music of top DJs and producers including Dash Berlin, R3hab and Goldfish & Blink.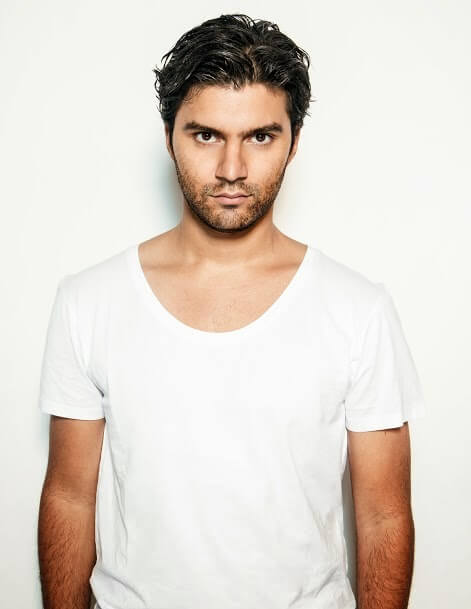 Future Sound Asia, the team behind the Thirst phenomenon collaborated with Callen Tham, aka themancalleduncle who added his own creative stamp to the project. Inspired by the Big Bang that created the Universe, it revolves around a simple premise: that particles attract one another and naturally come together.
"Thirst has always explored new areas and arenas," comments Ben Law, Director of Future Sound Asia. "When we featured Godskitchen Boombox in 2010, it was the first time that a Malaysian audience had been exposed to the kind of high concept show where the music and the DJ are only the start of the experience. Now, with Thirst We Are All Stardust, we're taking a step further.  It's time to create our own story."
Thirst "We Are All Stardust" brings our galactic history, present and future to life, exploring that feeling of unity and togetherness that we experience when we are all dancing to the same rhythm. A night of the inimitable experiences, shared moments and sounds that is unique to the universe of Heineken Thirst.
To be part of Heineken's exciting calendar of events, stay tuned at our Facebook page (www.facebook.com/Heineken) or Twitter (www.twitter.com/Heineken_MY).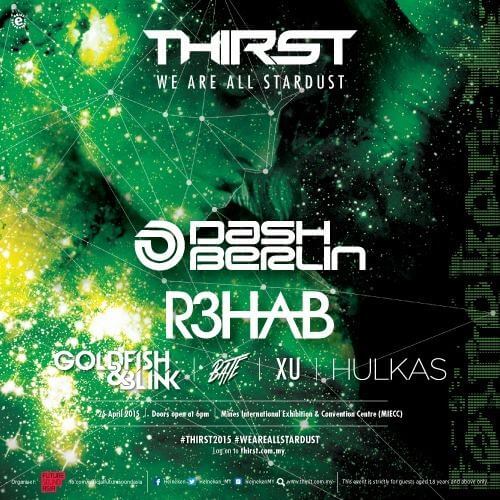 Event Details
Date: Saturday 25 April 2015
Venue: Malaysian International Exhibition and Convention Centre (MIECC), Mines Resort City
Time:Doors Open 6pm
Web: www.facebook.com/Heineken
Twitter/Instagram @Heineken_MY / @heinekenmy
Age Restriction: Thirst 2015 is open to those above the age of 18 years only
Line Up:
Dash Berlin
R3HAB
Goldfish&Blink
BATE
XU
Category

Price

Note

Phase 1

RM 158

Limited Quantities Available (from Friday March 13)

Purchase At www.boxtix.asia

Phase 2

RM 188

Available Once Phase 1 Tickets Sell Out

Limited Quantities Available

Purchase At www.boxtix.asia

Phase 3

RM 218

Available Once Phase 2 Tickets Sell Out or At The Door On Event Day

Purchase At www.boxtix.asia

VIP

RM 308

Limited Quantities Available

Purchase At www.boxtix.asia