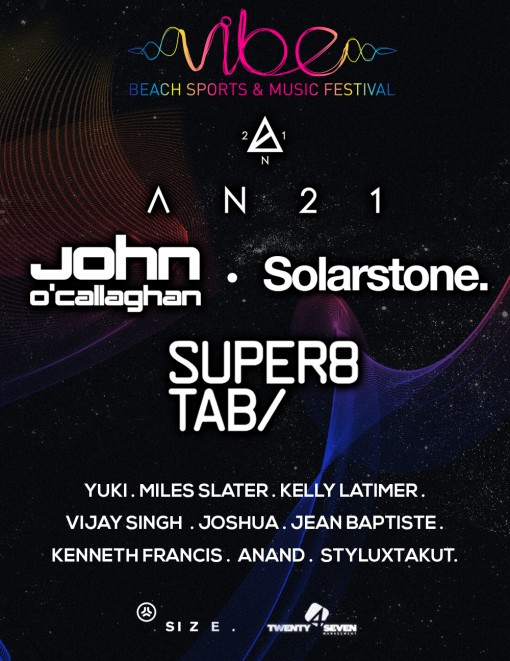 VIBE BEACH SPORTS & MUSIC FESTIVAL SETS TO SCORE WITH TEAM SPORTS IN THE DAY AND TRANCE-FORMS INTO A PARTY
MECCA AT NIGHT WITH FULL DJ LINE-UP
Work that body as we bring the rhythm of sports and music together to create Singapore's ultimate lifestyle festival at the beach
Singapore, 3 March 2015 – Get ready to play hard in the day and party through the night at VIBE Beach Sports & Music Festival, Singapore's inaugural lifestyle beach festival, as organised team sports and music join hands to create an unforgettable island vibe at Sentosa's Siloso Beach on Saturday, 21st March 2015, from 10.00am to 3.00am.
"VIBE Beach Sports & Music Festival aims to create a unique experience as it transitions from a lively day of sporting activities to an exhilarating beach party by night. A combination of sports and music, the festival promises an enjoyable and exciting time for both beach sports enthusiasts and partygoers alike", said David Thomas, the festival's project director.
Set against the backdrop of sun, sand and sea, this one-of-its-kind event aims to draw 5,000 sport aficionados and music lovers.
Partnering with the Volleyball Association of Singapore for the beach volleyball competition and Pro- Am Beach Soccer from the United States (organiser of numerous American and International Beach Soccer events) for the beach soccer competition, up to 32 amateur teams per sport discipline will pit their skills against each other to win cash prizes of $800 for the 3rd prize, $1,200 for the second prize and $1,500 for the top team. The winners will walk away with VIP passes to the night party as well. Interested participants are required to register in teams at the official website www.vibebeachfest.com.
VIBE will also attempt to break the "Largest Zumba Dance in Singapore" record with at least 1,200 participants led by French celebrity Zumba Instructor Alix Pfrunder. Having opened for previous music festivals, Alix will deliver a high octane and upbeat workout that will keep participants energised and even onlookers moving to the beat.
Different music genres by a total of seven local and regional DJs, such as Miles Slater (HK) and Joshua P (KU DE TA), will fill the air as beach sports competitions take place in the day.
UPDATE: TWO MORE DJS ADDED TO THE LINE-UP FOR THE NIGHT PARTY!Joining the stellar line-up consisting AN21(Sweden) and John O'Callaghan (Ireland) to turn the party up few more notches at VIBE are two internationally-renowned Trance DJs – Solarstone (UK) and Super8 & Tab (Finland).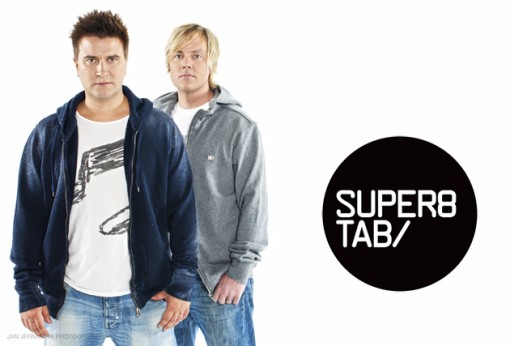 Armed with a slew of new productions and classic trance anthems, get ready to be mesmerised by their electrifying performances under the stars as they trance- form our sunny shores into an outdoor party mecca for just one night!
The first 2,000 ticket-holders to arrive at VIBE Beach Sports & Music Festival will receive a limited edition VIBE drawstring bag filled with nifty items, such as a lanyard with a waterproof phone pouch, sports towel, foam clappers with LED lights and a bottle of FIJI Water, to help survive the entire day of sports and party.
FRINGE ACTIVITIES AT VIBE
There's never a dull moment at VIBE with fringe activities that will take place throughout the day to keep you on your feet even as you catch your breath.
Pit your beer drinking skills against your friends or VIBE-goers in a friendly match of Beer Pong (where you and your opponent take turns to throw a ping pong ball into each other's cup. If the ball lands in a cup, it will be taken away and he/she will drink the contents of a designated beer-filled cup. The team that successfully hits all of their opponent's cups wins the game) or Beer Yard Challenge, where the fastest drinker of a yard of beer stands to win attractive prizes.
Festival goers can also win a free Pure Blonde beer (worth $10 each) at the Dunking Machine for a successful attempt at dunking a VIBE volunteer into a water tub. All they need to do is to purchase three balls at $3.00 to have a go and join in the fun!
All ticket buyers will also be entered into a Lucky Draw where two lucky winners will each win a set of Green Pioneer HDJ – 500G DJ Headphones autographed by VIBE's international DJs.
WANT TO KNOW WHAT THE VIBE'S ALL ABOUT?
Join in VIBE's "Beach Please", a pre-party at Avalon on Saturday, 7 March 2015, from 10pm to 4am, to get a taste of what's in store at the inaugural beach sports and music festival. VIBE ticket holders will be entitled to free entry while normal entry charges will apply to non-ticket holders.
Vibe Beach Sports and Music Festival is supported by the following partners: Volleyball Association of Singapore, Pro Am Beach Soccer, Espzen, Pioneer DJ, GoGORILLA, Red Bull, Pure Blonde, Snow Leopard and FIJI Water.
TICKETING AND OTHER INFORMATION
Tickets are available at https://vibebeachfest.eventclique.com