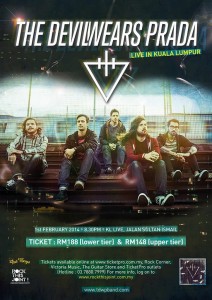 The Devil Wears Prada Band Bio
The Devil Wears Prada is an American Melodic Metalcore band from Dayton, Ohio formed in 2005 consisting of members Mike Hranica (vocals), Chris Rubey (lead guitar), Jeremy DePoyster (rhythm guitar, vocals), Andy Trick (bass), and Daniel Williams (drums). The band had maintained its original lineup until keyboardist James Baney left the band. To date, the group has released five full-length albums, one DVD, one EP, thirteen singles, and ten music videos and are currently signed to Roadrunner Records.
Despite speculations that the band named themselves after the film with the same title, it turned out that they were formed before the film was released. They have explained that their band name is based on an anti-materialistic mindset and derived their name from the novel, The Devil Wears Prada. At the time of naming the band, the members assumed that the novel included anti-materialism as its moral, until later discovering that the novel did not feature this as its message at all. Despite making this mistake, the band members refused to change the name and decided that they created a new meaning behind the title "The Devil Wears Prada", within the terms of it being their band name.