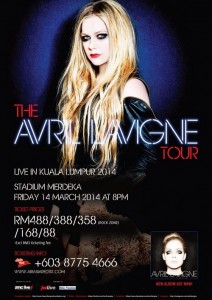 AVRIL LAVIGNE IS COMING BACK TO MALAYSIA ON MARCH 14, 2014!!!
The Punk Princess is coming back to Malaysia for her The Avril Lavigne Tour 2014! Her latest Album AVRIL LAVIGNE with hit singles such as "Here's to Never Growing Up", "Rock n Roll", and "Let Me Go" – all charted the Billboard Hot 100and "Here's To Never Growing Up", is currently the album's hit single.
Catch her concert live on Friday, March 14, 8.00pm at Stadium Merdeka! So hurry and get your tix from AirAsiaRedTix before it is sold out!
This concert is brought to you by AMC Live Group.