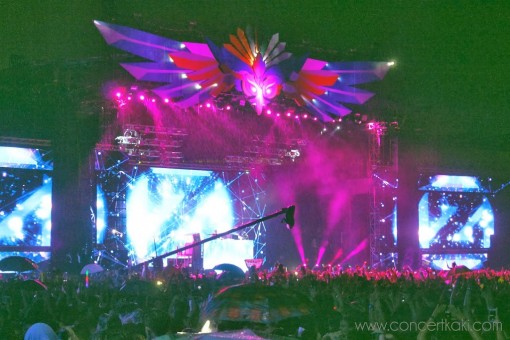 Djakarta Warehouse Project, an annual festival experience by Ismaya Live, is the biggest dance music festival in Indonesia. Featuring both impressive international and local's best electronic artists and DJs with an amazing venue that could perfectly fit the massive amount of crowd, this is definitely one the biggest music festival in Asia you do not want to miss.
We are very grateful to be invited by Ismaya Live to attend their event that is held on the 13th December 2014 as media. Knowing that this is a huge opportunity to experience the greatest and most spoken music festival in Indonesia, we immediately booked our tickets to fly over there. We are both excited and overjoyed by the amazing opportunity given to actually cover as media for international. Bags are packed and passports are ready, with our suitable attire for the night, we are definitely ready to head out to Indonesia.
The weather wasn't on our side when we arrived at Jakarta on Friday morning. We were worried if the event will be affected by the weather but we were proven otherwise. A massive group of people were already lining up to get into the venue and the other half of them were queuing up to purchase tickets. We were both surprised and amazed on how the Indonesian's fans are willing to be soaking wet under the rain. We give them full respect for being such an amazing hardcore fan. Fist bumps to all of them.
With so many stages to be at, we are determined to stay on the Garudha Ice Land stage because most of the main acts will be playing there. The night was wild and crazy. It was crowded and packed with all the amazing party people getting ready to dance the night way. We assume it was also another way to celebrate TGIF.
The venue was amazing. It was definitely huge and it takes up a little energy from all the walking but it was definitely impressive. The rain kept pouring hard that night but no one was bothered by the unpredictable weather. As a matter of fact, it only made the crowd crazier and you can see everyone was just splashing through the puddle of mud having the time of their lives.
Standing from the VIP deck, we are able to see the amount of people attended the event that night. We were definitely blown away by the crowd. We could see every hand up in the air and almost everyone dancing together with their friends and loved ones. This is definitely something you want to witness at a music festival.
After watching most performances by Martin Solveig, Zedd and Alesso from the Garudha Ice Land stage, we were literally blown away by the amazing stage setup and lightings. The sound system was out of the world! It was both clear and loud and it immediately sent you into dancing mode. Other than that, the graphics that played by both LED screen was amazing. We were very impressed on how perfectly well the stage setup was. The lightings were electrifying and the sound production was a beast.
The night couldn't be more than perfect with an amazing blast of fireworks. Despite the crazy weather, DJAKARTA WAREHOUSE PROJECTS is indeed one of the biggest dance music festivals in Indonesia. Nothing can literally stop these fans from partying even harder under the pouring rain. We were amazed by almost everything that night, from the crazy line-ups to the amount of crowd that showed up, and not to mention the amazing stage production, it was perfect.
We would like to thank Ismaya Live for the greatest opportunity to experience this amazing music festival. We are more than grateful and we are very pleased. We definitely can't wait to see what Indonesia has next in store for us.