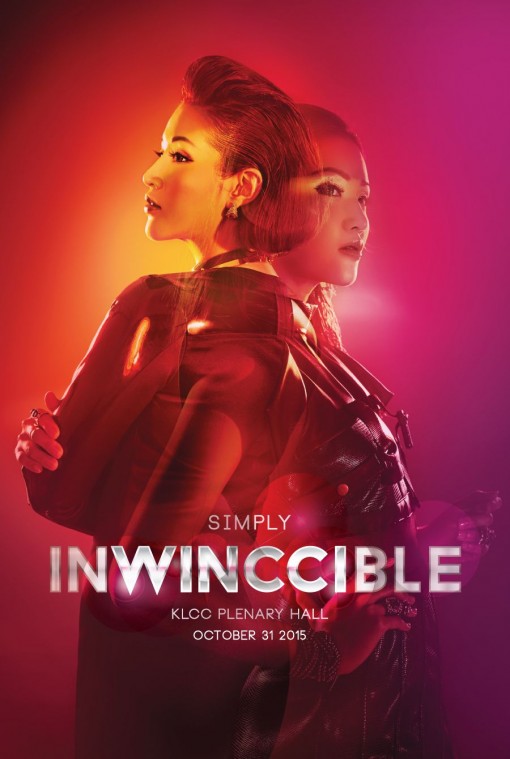 Soo Wincci is a Malaysian singer-songwriter known for her extraordinary performing talents. Since exploding into the music scene in 2009, Wincci has written more than 30 songs and won numerous local and international accolades recognising her remarkable achievements as a performing artiste. Wincci has released 6 albums (5 Chinese albums and 1 Malay album) and is PWH Music Awards 2015 Media's Most Recommended Artiste.
Inspired by ex-beauty queens like Tan Sri Michelle Yeoh who achieved international acclaim as an actor, 2015 is a special year for Wincci; through SIMPLY INWINCCIBLE, Wincci hopes to raise the spirit of Malaysians through powerful messages of strength and resilience to overcome our biggest fears and obstacles. Wincci has also recently flew to the United States to team up with multi-platinum award-winning record producer for the production of her concert theme song "My Time", writing and composing the song herself. Meanwhile, a series of concert merchandise were launched in collaboration with Lisa Lee, talented creator and founder of art brand LISELLE. The creative illustrations will be making an appearance in her "My Time" music video as well.
SIMPLY INWINCCIBLE will see the indomitable Wincci once again challenging her limits and breaking new boundaries. Joined by a stellar team of top-notch production mavens and musicians, SIMPLY INWINCCIBLE is divided into 4 main segments: Fabulous, Affectionate, Exceptional and Fearless. Expect eye popping costumes designed by award winning Malaysian fashion designers, Carven Ong, Dominique Chan, Nazleen Noor and Smyth Wong for the 4 respective segments.
The first 1,000 ticket purchasers will receive a limited edition SIMPLY INWINCCIBLE card that entitles Wincci's fans to enjoy exclusive promotions at selected outlets.
Online Ticketing @ "Soo Wincci Simply Inwinccible Live In KL":
http://www.ticketcharge.com.my/en/current-events/soo-wincci-simply-inwinccible-live-in-kl
MAS Air Ticket Promotion:
Exclusive MAS Promotion for ticket purchasers of "Soo Wincci Simply Inwinccible Live In KL".
The campaign period is from Sept 10 – Oct 30, 2015.
The travelling period to Malaysia (from home country) is from Oct 19, 2015 onwards and return (to home country) by Nov 6, 2015.
Book with Coupon Code (SIWMICE48) to enjoy 10% discount through
Terms & Conditions apply.