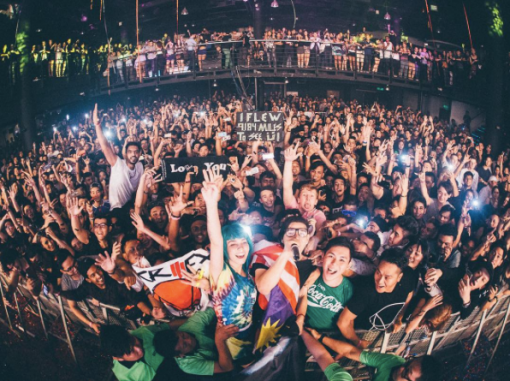 "I am really excited to finally be able to play in Kuala Lumpur. I have heard a lot about this beautiful city and I know that there are plenty of amazing fans here as well. I have wanted to come to Malaysia for a while now and I am glad that we finally did."
On September 23, Grammy Award winning electronic music producer, Skrillex finally made an electrified performance for the first time in Kuala Lumpur. According to the statement he had made as above, he was really excited to perform in KL! Also known as Sonny Moore, he was here to play at KL Live, together with his prodigy, Mija and Malaysian DJ, H3. 2,500 EDM fans were there that night to witness the Dubstep King spin live. At 6pm, a long queue was formed at the entrance as fans seemed to be excited and more than ready to dance all night long with their favourite DJ for his first show in Malaysia.
The night was started with local DJ, H3 at 8.30pm. He played some bass-pumped EDM to the crowd with his 90 minutes original set. The crowd seemed to be enjoying his set and grooving along with the music. Screams and cheers came on louder as H3 ended his set and Mija was up to the stage.
Female DJ Mija never disappointed the crowd as a Skrillex's prodigy. She played a pretty anticipating set and showed her skills that brought the crowd higher. The fans went crazily excited when Skrillex appeared on stage and took over Mija. This was the moment everyone was waiting for; to finally catch one of the best DJs in the world performing at home ground. His set was awesome as he played a lot of his famous tracks and tracks he did it with Jack Ü recently. Jack Ü is a DJ that was formed by Skrillex and the founder of Mad Decent, Diplo. The Jack Ü's tracks that Skrillex played in his set that night such as Take Ü Home, Jungle Bae and Where Are Ü Now.
Skrillex was jumping and raising his hands the whole night as he played to make his fans dance along. He even stood up on the DJ booth and jumped with the crowd! When the song "Cinema" was playing, Skrillex carried a Malaysian flag and waved it onstage to show his love to Malaysia and his fans and him continued to carry it until the end of the show. 90 minutes set by the Dubstep King was indeed the best way to hype up a Wednesday night.
photo by JasDavisMedia.com