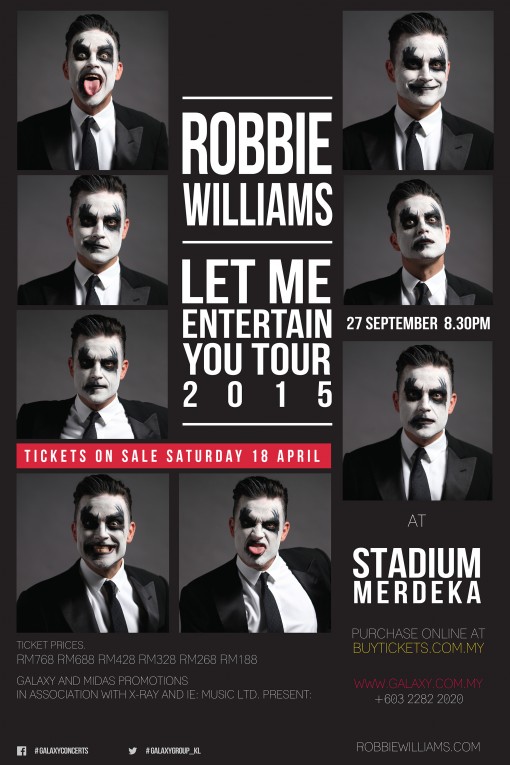 One of the best-selling pop artists of all time, British singer-songwriter Robbie Williams will hit the stage in Kuala Lumpur, Malaysia this September. The UK Music Hall of Fame inductee's brand new Let Me Entertain You Tour 2015 opened in Madrid on 25th March, followed by an extensive European tour throughout the summer. Robbie will make his long awaited come to Kuala Lumpur, Malaysia on 27th September 2015 at Stadium Merdeka. The "Let Me Entertain You Tour" will bring Robbie to several cities he has never played before and will be a journey through his extensive catalogue of hits – featuring all the classic favourites.
Since embarking on his solo career, Robbie Williams has sold over 70 million albums worldwide and has won a total of 17 BRIT Awards – more than any other artist in history. Six of Robbie's albums appear in the all-time top 100 biggest selling albums in the UK. 2013's album Swings Both Ways went straight to Number One in the UK Albums Chart with first-week sales of 109,000 copies, making it his eleventh album to top the chart –
matching Elvis Presley's record. The album is also the UK's 1,000th number one album.
Robbie's latest album Under the Radar Volume 1, released in December 2014, is his eleventh studio album comprising demos, B-sides and other previously unreleased
Robbie Williams holds the Guinness Book of World Records for the fastest, and largest, number of concert tickets ever sold in one day — 1.6 million when the European leg of his 2006 World Tour went on sale. With such impressive record, fans in Malaysia will know better to make sure they grab their tickets fast.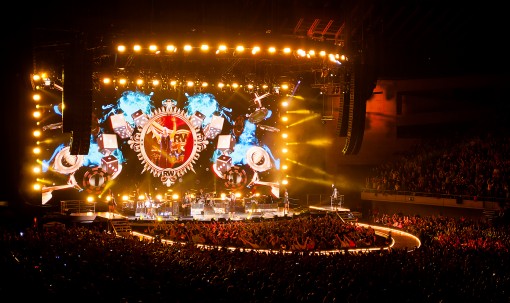 Robbie Williams Let Me Entertain You Tour 2015 Live in Kuala Lumpur,
Malaysia is organised by Galaxy Group and Midas Promotions, supported by Malaysia Major Events, a division of the Malaysia Exhibition & Convention Bureau (MyCEB), an agency under the Tourism and Culture Ministry whereby the stadium pop giant's one night only gig, Robbie Williams will be performing on 27th September 2015, 8.30pm at
Stadium Merdeka. Tickets are available from 18th & 19th April 2015 exclusive public launch at Fahrenheit 88, KL, Atrium, Ground Floor from 11.30am onwards. From 20th April onwards, ticket will be available at all Galaxy ticketing counters at Mid Valley, Sg.Wang counter and Buytickets website www.buytickets.com.my . Ticket purchase hotline 03-2282 2020, for further concert information, please visit www.galaxy.com.my .
Robbie Williams Let Me Entertain You Tour 2015 Live in Kuala Lumpur,
On-line ticketing: www.buytickets.com.my
Robbie Williams official website: http://robbiewilliams.com