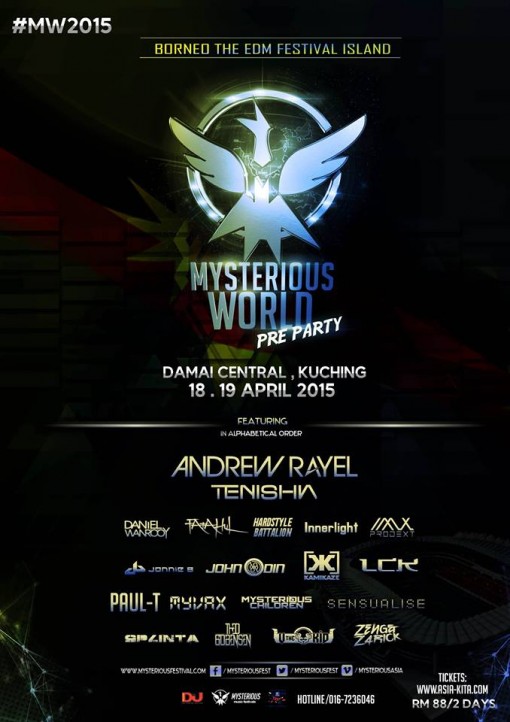 Mysterious World is back for its second year! Mysterious Asia (the organizer for Mysterious World) promises a bigger and better festival concept this year. For a taste of what is assembled coming #MW2015 festival in August, Mysterious Asia presents 'Mysterious World 2015 Pre Party', a 2-days dance music showcase happening on 18 and 19 April 2015 headlined by top DJs and producers across the globe.
Day-1 opens with the mighty talented Dutch DJ/ producer Daniel Wanrooy, trance-evangelist Jonnie B (Thailand), the high-energy tech dance act DJ Splinta (Australia), Malaysia born Hardstyle DJ/ producer VtheKid (Australia), and pioneer of the harder styles EDM in Indonesia Hardstyle Battalion.
It gets more exciting in day-2 with appearance from DJ Mag Top100 acts! Ranking at #24, it's the modern day Mozart, Andrew Rayel (Moldova). Next on the bill is Malta's #1 DJ and DJ Mag Top100 #73 Tenishia. The list continues with acts from down under; the 150 bpm darlings duo Kamikaze (Australia) and up-and-coming producer Sensualise (Australia), Philippines trance-captain John Odin, Hardstyle producer Theo Gobensen (Singapore), and award winning trance producer Innerlight (Indonesia)
Leading the pack for the local acts are KL-base IMX Project consist of misterAriffin and Adham Nasri, Sarawakian Myvax, supported by Paul T, Fatahul, Zeng & Zarick, and a special appearance performance from the 'Mysterious Children'.
Event will set at Damai Central, Kuching, Sarawak. Damai Central nestled at a coastal land fronting the paranomic South China Sea with the legendary Mount Santubong in the background. A perfect get away to witness the beauty of the mythical island of Borneo.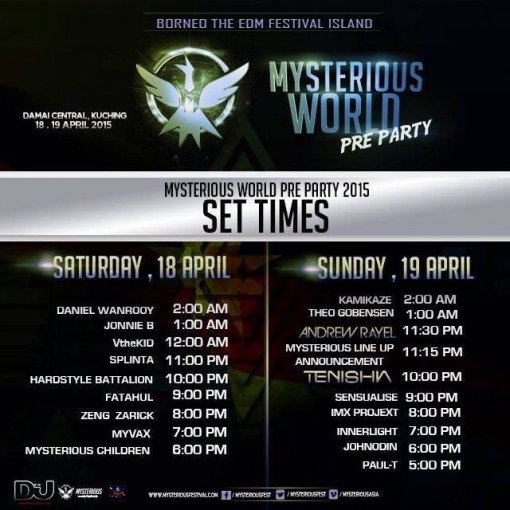 Supported by Sarawak's official tourism authority – Sarawak Tourism Board, it aims to draw tourists, music and festival lovers to the 'Land of the Hornbills' from all over Asia. Festival entry is RM88 for both days. Stay packages and tickets are available online at www.asia-kita.com and through official on-ground ticketing agent. Entry to the event is free for the August 2015 'Mysterious World 2015' ticket holder.
For more information and updates on the festival, logon to www.mysteriousfestival.com or get connected with Mysterious on Twitter @MysteriousFest and Facebook