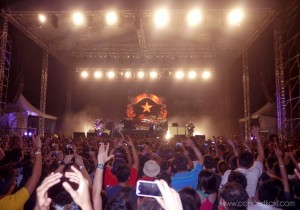 The American Rock Band, The Killers, that was formed in Las Vegas, Nevada, in 2001 made it all the way to Malaysia for the very first time. Long time loyal fans of The Killers were definitely stoked about the news and couldn't wait to experience one hell of a good show.
With our amazing and talented local indie band, Kyoto Protocol, that never failed to amazes us day-by-day was the opening act for the night. We couldn't be more proud of them boys witnessing them on stage doing what they do best. With popular hits such as Pussycat, and Jelita, the party was definitely about to start.
Even though the crowd waited for The Killers for almost an hour, it was definitely something worth waiting for when The Killers pop out of nowhere with their famous hit Mr Brightside was played. The crowd was overjoyed and everyone was screaming for them boys.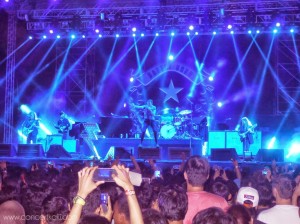 The stage was amazing with their electrifying lighting. Brandon Flowers was interacting with the crowd all the time and it really felt like we were part of the band. It brings so much closure and everyone was just having so much fun. The boys never disappoint us, in fact we wanted so much more.
It was definitely an amazing experience watching The Killers live in Malaysia after almost 12 years waiting and wanting them to make an appearance here. With famous hit songs such as Somebody Told Me, All These Things That I've Done, Runaway, When We Were Young and many more played that night, Concertkaki was definitely proud to be there to watch The Killers live.
Thank you Future Sound Asia for bringing The Killers to us. We can't wait to see what's next in store!