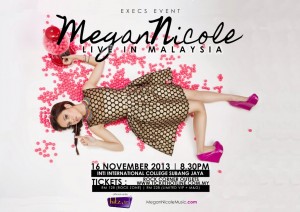 Megan Nicole is a 19 year old Bad Boy/Interscope recording artist and superstar-in-the-making. With over 1,600,000 subscribers and over 350 million video views, Megan's remarkable rise to YouTube stardom began not very long ago. It was December 2009 when a fresh faced Megan Nicole first posted a Kings of Leon cover. Fast forward to 2013, and Megan's staying power is clear. Her cover of Bruno Mars', "The Lazy Song," has attracted over 37 million views and boasts all the qualities of a full-scale production.
When Megan released the Kurt Schneider directed video for her first original song "B-e-a-utiful", the reception spoke for itself. With over 24 million views of the pop single, Harve Pierre, president of Bad Boy, took notice of Megan's talent. Instantly aware of Megan's growth, as well as potential, he arranged a meeting between the young singer and Bad Boy founder/hip hop mogul, Sean "Diddy" Combs. Impressed, Bad Boy quickly scheduled a meeting with Jimmy Iovine, CEO of Interscope Records and Megan was signed to the label.
A Texas native, Megan was born in Houston and raised in Katy, TX. Growing up in the 90s, she was influenced by an array of sounds from the generation prior, including: Queen, Al Green, Stevie Wonder, and various artists from the 70s funk era. Her own talents began emerging around 4th grade when she recognized her vocal abilities while dabbling with her family's karaoke machine. It was also around this time when she was introduced to the piano, a skill she became proficient in, and eventually used to lead her church's youth group.
Now based in Los Angeles, Megan Nicole is currently in the studio finalizing her debut album, out 2013 on Bad Boy/Interscope Records. Megan is managed by Ron Cerrito for Prospect Park.
Date : 16 November 2013
Time : 8.30pm
Venue : INTI international college Subang Jaya
Prices : RM 228 ( VIP / Meet&Greets – Free Seating) | RM128 ( Rock Zone – Free Seating)