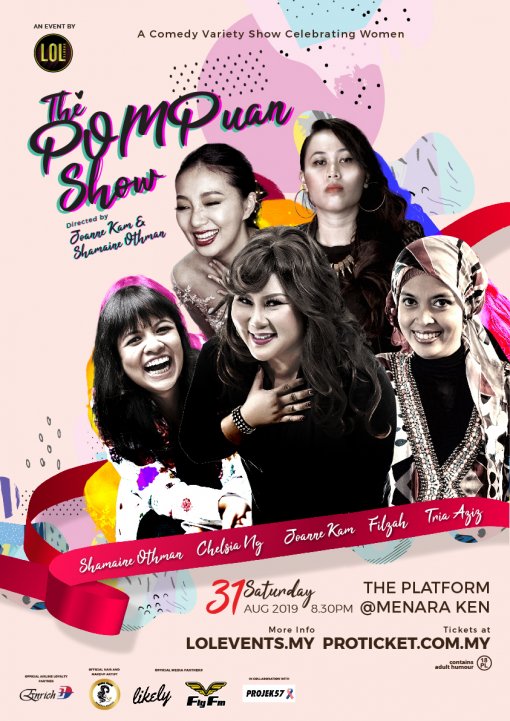 In conjunction with the month of Merdeka, LOL Asia is proud to present a restaging of The POMPuan Show [POMP definition — a show of magnificence = PEREMPUAN], a no-holds barred, comedy variety show celebrating independent women! After a successful run for International Women's Day, the sassy, independent women of The POMPuan Show are back for another run. 
Five hilariously sassy women in Malaysia's entertainment industry band together in a bi-lingual show (English and Malay) filled with crazy laughter and anecdotes on all things women related. This time around, the ladies will be painting the town red in Kuala Lumpur (31 August 2019). 
Directed by Malaysia's top women in comedy, Joanne Kam and Shamaine Othman, the show is set to entertain and empower audiences with a fun night of stand-up comedy, sketch comedy and song parodies. They will perform alongside BOH Cameronian Arts Award winner – Tria Aziz, songbird – Chelsia Ng and ASTRO Warna's Miss Lawak 2019 – Filzah Azmi. 
The show is in collaboration with social enterprise Projek57 for Unity Ribbon 2.0 to instil the spirit of patriotism and unity amongst Malaysians. Inspired by the vision of a united Malaysia, Projek57 has kicked off its Unity Ribbon – Maka Kami Rakyat Malaysia Campaign, urging Malaysians to wear the hand-made ribbon as a symbol of patriotism and national unity as the country gears up for the 62nd Merdeka Day. 
Bringing Malaysians together with the Unity Ribbon 
In its second year, the Unity Ribbon 2.0 campaign sees a refreshed ribbon design that now has the iconic silhouette of the nation's Father of Independence, Tunku Abdul Rahman, done in gold. The rest of the design maintains its original simplicity, allowing the ribbon to speak for itself. 
Projek57 aims to sell 200,000 ribbons this year to benefit less privileged communities throughout the nation. Once again, the Unity Ribbon 2.0 campaign will benefit Orang Asli youth and those from East Malaysia, with the addition of the differently-abled and those with special needs. 
The ribbons are now available at RM3.00 each, from which RM0.50 will be handed back to the underprivileged beneficiaries, while the remaining will be channeled towards Projek57's youth empowerment programmes. 
The ribbons can be pre-ordered at Proticket https://proticket.com.my/the-pompuan-show-kl/
or purchased directly at https://www.projek57.com/unity-ribbon/ 
Show Details 
Date: 31 August (Saturday) 2019 @ 8.30pm 
Venue: The Platform @ Menara Ken, TTDI 
Age Limit: 18 & above 
Ticket Price: Standard RM70 (excluding ticketing fee) & Premium RM90 (excluding ticketing fee)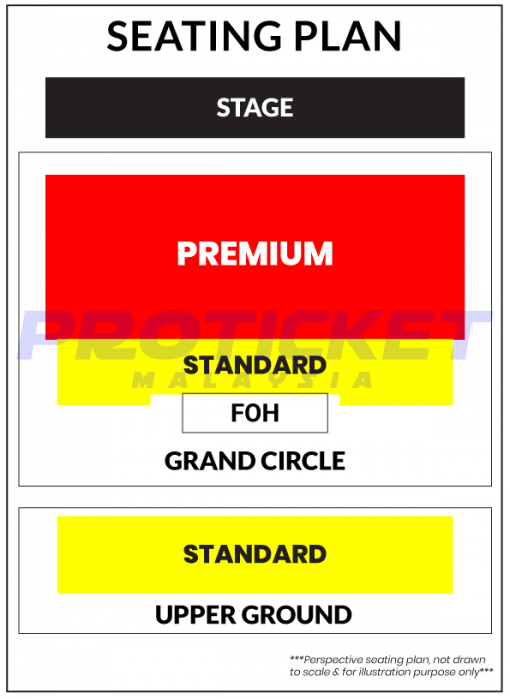 Tickets are available for purchase online through Proticket Malaysia Enrich members who purchase tickets for the show will be eligible to earn Enrich Miles when making their purchase (Terms & Conditions apply). 
*excluding ticketing fees