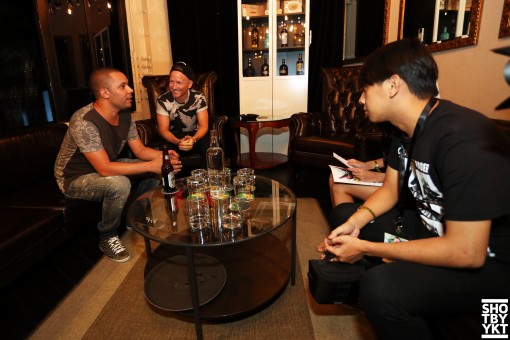 DJ and producer Joram Metekohy which is also well known as Wildstylez, made his way down to Kuala Lumpur, Malaysia for the very first time. Tagged along Michael Brons which is well known as MC Villain, the person in charge of giving every party a little bit of extra, satisfaction.
Together they made a compatible team on stage behind the decks. With hardstyle music becoming more and more influential, it is no wonder these boys are on the verge of conquering the world in their own special ways.
Concertkaki had a great opportunity to catch up with these boys last weekend and managed to ask a few questions to fill our curiosity.
Concertkaki : What track this year has written the best for you in your set and why?
Joram Metekohy ( Wildstylez ) : I think it has to be Bass Modulators, Let Me See Ya. It's a hardstyle track with a housy drive in it. It is really fresh in hardstyle and it works really well on the dancefloor. I already loved the track and when I saw it playing people just went off, you know?
Michael Brons ( MC Villain ) : And Lost in Paradise, that was insane.
Concertkaki : What separates you from other Hardstyle Djs? What makes you so different from the others?
Joram Metekohy ( Wildstylez ) : Well, I think the fact is that I choose my own path. I love doing vocals in my music and there are a lot of people who hated it and there are also a lot of other people who loved it as well. In the studio for me, the best way to express a feeling and a track is with nice melodies and vocals, these are the two things are always going through around my tracks. Im already doing that for a few years, my vocals are always much more fun than other tracks.
Concertkaki : Do you have any big releases coming up that you can tell us about?
Joram  Metekohy ( Wildstylez ) : We are working on a release together with Bright Lights, from HARDWELL and Dyro, Never Say Goodbye. I am almost finished with collaboration with Headhunterz and Brennan Heart, but they are not ready yet and they are coming out after this summer.
Concertkaki : It is going to be a great one, right?
Joram Metekohy ( Wildstylez ) : I hope so! The one with Headhunterz is a little bit more experimental, and the one with Brennan Heart is a lot of vocal track, and I really love the vocals in it.