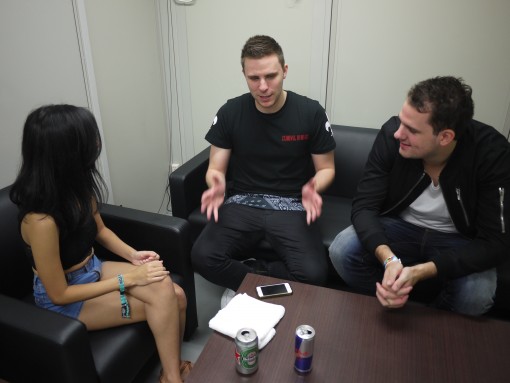 Dutch electronic dance music duo, W&W, which is consist of Willem van Hanegem and Wardt van der Harst, made their way to Ultra Music Japan 2014 last weekend. The boys are well known in performing at well known music festivals such as Tomorrowland, Stereosonic, Electric Zoo, Tomorrowworld, and Ultra Miami. The boys have come a long way and it is currently #14 in the DJ Mag Top 100. With the likes of famous DJ such as Armin Van Buuren, David Guetta, Hardwell, and Tiesto, there is no way in stopping these boys to make it to the top. 
We managed to catch up with the boys during their amazing set In Ultra Japan 2014. 
Concertkaki: Hi guys! So we heard that the last performance you guys had was in Road To Ultra Thailand. What are the differences between the experience you had in Thailand compared to Japan?
W&W: There weren't much of a difference except the fact that Thailand was indoors. But the both thing that Thailand & Japan had in common was the crowd feedback. Both crowd were crazy and full of energy. We can honestly say we didn't expect much but the feedback was brilliant. 
Concertkaki: We heard that you guys are collaborating with Headhunterz. Can you guys tell us about the progress right now?
W&W: We released one song. Actually it is our main song. There was two songs, one it is already released. We have the last song, but we are keeping that for last. We are definitely keeping the best for last. It is probably gonna release in this coming October. We still have some finishing touches to make. We played it today, as a short version. 
Concertkaki: You guys were in Kuala Lumpur, Malaysia, for Thirst last year, will there be any chances you guys coming back here again?
W&W: We wish! Kuala Lumpur for us was one of our favourite cities! It is like, number one in our wish list. The city we wanted to play the most right now is definitely Kuala Lumpur.