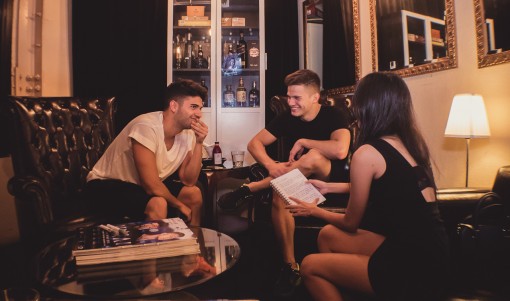 Italian producers Alessandro and Andrea Vinai are two brothers that joined forces in 2011. Ever since then, the brothers have been producing many EDM tracks such as Louder and How We Party. Both brothers formed VINAI in the year 2011 after working on individual projects. We are definitely looking forward to hear more from these boys as they keep progressing with many great tracks with much well known collaboration such as DVBBS and Dimitri Vegas & Like Mike and R3HAB. We had the privileges to catch up with the boys during their set in PLAY Club at The Roof, Kuala Lumpur.
Concertkaki: Being one of the most well known electronic music group from Italy, how does that make you guys feel?
Alessandro: Amazing! I mean, it is crazy to be touring everywhere because of the music we produced. It is definitely an honor and as we spoke to everyone we are living the dream so it's a very cool thing to happen to us.
Andrea: It is like a dream! (Laughs)
Concertkaki: Since you guys are brothers, I assumed that you both have a'lot in common. How do you guys work together in creating music and selecting tracks to be played on set?
Andrea: Maybe we can combined our favorite tracks and about producing, it's like an inspiration.
Alessandro: Yeah, Inspiration. Sometimes we both have to split the job for example, Andrea is very good with melodies, and I'm better with mixes and dynamics. Anyways, we can split the job, but we are always together on the computer.
Concertkaki: You guys have collaborated with a' lot of well-known DJs such as DVBBS, Dimitri Vegas & Like Mike, are there anymore artist you would like to work with in the future?
Alessandro & Andrea: David Guetta! (Laughs)
Concertkaki: Can we know more about this new track, The Wave, that has been buzzing a'lot on the social media?
Alessandro: It is a new record we are doing, It is just VINAI, so it is basically just a solo record. The good thing about this track is that, in the first wave and the second wave, there is a good melody that will inspired you to do the wave with your hands, easy crowd thing. So that's why we named the song The Wave.