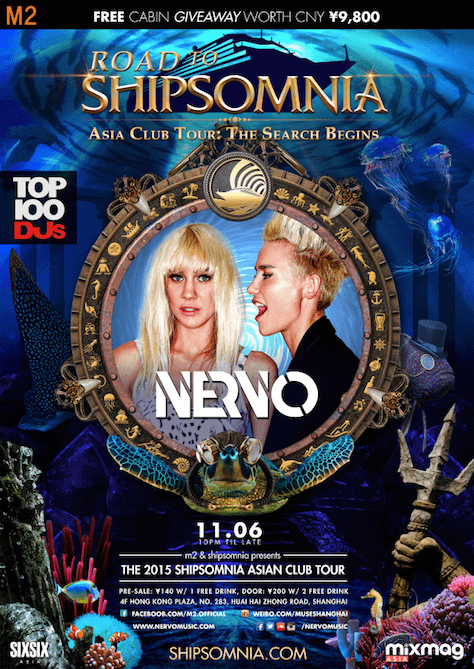 Festival-vacation cruise Shipsomnia will host the finale of its Asian club tour in Shanghai on June 11 at the iconic M2 club, featuring NERVO. Currently ranked #21 on DJ Mag's Top 100 DJs global poll, NERVO is one of the world's most sought-after songwriters and artists who have performed across the globe from the shimmering beaches of Ibiza, their studio in their home- away-from-hometown of London, to the towering Main Stage of Electric Daisy Carnival in Las Vegas, and more.
Following NERVO's gig in M2 Shanghai on June 11, Shipsomnia will announce its line-up of artists. Shipsomnia is a one-of-its kind, experiential 5-day festival vacation cruise to the hottest destinations in Asia with one of the world's finest musical sommeliers on the grandiose Costa Victoria that would be propped out with a magical aquatic theme with a steampunk twist, where legends of the sea come to life. Touted by the international press as the Tomorrowland of the Sea, the 5-day, 4-night cruise will set off from Singapore on January 2, 2016, to Phuket and Langkawi, and back to Singapore on January 6.
Shipsomnia is organised by Mad Fresh Events and at a cost of US$2.5-million. It will feature over 30 artists from around the club, and expecting some 2,400 attendees from around the Asia-Pacific region and beyond. Shipsomnia will see a world-class stage production of its 2016 theme – The Search For Lost Rhythms – collaborating with some of the best artists and stage production teams from Belgium and South Africa.
The collaboration with M2 Shanghai will also see the club host two parties on Shipsomnia [Jan 2–Jan 6, 2016 on the Costa Victoria] and would be represented by their resident DJs, who would present their unique brand/sound and club culture, alongside global acts that would be announced at a later date.
Mad Fresh Events' CEO and Shipsomnia's co-founder Alessandra Maderni says: "We're looking forward to this collaboration with M2, which is one of Shanghai's best nightspots, and to promote Shipsomnia to a greater audience in Asia. We are also pleased to have NERVO as one of the two headliners of Shipsomnia's Asian club tour 2015."
SWEEPSTAKES
Guests to M2/Shipsomnia gig on June 11 stand to win a Double Occupancy Interior Class Cabin [worth US$1,778] for two. Register at the door on event night at the club. They can also join the sweepstakes where a US$10,000 Grand Prize for two on Shipsomnia festival-vacation cruise awaits.
EARLY-BIRD TICKETS
Register on shipsomnia.com for quick access to the Early Bird Tickets that would launch on May 24, 12pm [GMT+8]. Prices [exclude taxes and fees] start from US$699 to US$1,199 per person, depending on the choice of cabin. This is a savings of US$400 per cabin for a quad or 4-person sharing cabin, till June 14, 2015. Thereafter, the prices will hike by US$100 per person.
Easy on the pocket, guests are only required to put a deposit of US$250 at the time of booking and they have the option to split the balance into three easy payments on July 1, Sept 1, Nov 1, 2015. Or they can pay in full.
For example, the price for one person for the lowest priced room costs US$699 [Usual: US$799]. After paying the deposit of US$250, the remaining sum can be paid in three instalments of US$150 each. Visa, MasterCard and Debit cards are accepted. Shipsomnia's VIP packages will also be available. More details of the cabin prices and booking process are published on shipsomnia.com . Price for each person includes accommodation; all meals on board [includes coffee and tea, and food is available 24 hours]; usage of all facilities on Costa Victoria; transfer to the beach party in Phuket; and access to all concerts/events on board. Plus, a full-day in Phuket with a private beach party, lots of activities and special surprises planned. Stopover in Langkawi is half a day, where you can either stay on the boat and enjoy the beautiful surroundings of the port or go on one of the many organised tours.