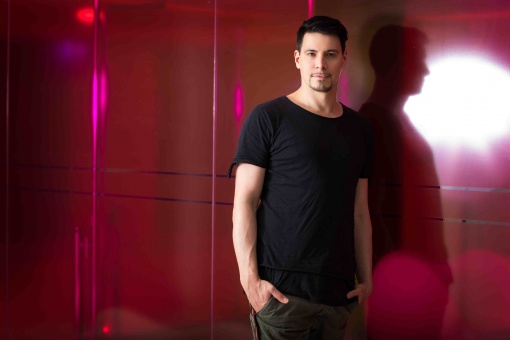 As a DJ and producer, Thomas Gold is no stranger in the EDM scene. Based in Berlin, Germany, the city of techno, Thomas has a lot of remarkable success to share. His breakout remix of Adele's "Set Fire to Rain" has earned 15 million YouTube views and he has previously worked with Fatboy Slim, Dirty South and Alex Kenji on the hit tracks like Star 69 and Alive. In 2009, he won the award of "Best Progressive House Track" from Beatport for his remix of Delerium "Silence".
Thomas has been travelling around the world to deejay and perform. Doing what he deems as life and passion, his music has definitely make a great difference to the scene. It is of great pleasure to be able to meet him and have a quick chat with him at Ultra Korea 2016.
Concertkaki: Hi Thomas, it's a pleasure to meet you here in Korea! We heard that you were playing in Vietnam last night and seemed like you had a blast over there! How does it feel to deejay in Malaysia's neighbouring country?
Thomas: Hahaha, yeah Vietnam was great. Reallyyy great! The crowd was crazy! It was totally packed and the vibe was amazing. It was just pure fun to play there. Really! It was one of the best shows this year.
https://www.instagram.com/p/BGgq6w0tXjk/?taken-by=thomasgold&hl=en
Concertkaki: Wow, so much fun! We also heard that there were a couple of fans waiting and welcoming you with banners and signs at the airport. How did that feel, to be welcomed by your fans?
Thomas: That's very nice, you know! You don't get that very often. Though it was a little intense, like they gave you the flags, and I had to sign some stuffs but it was really nice. People from Vietnam, they were so nice! Everybody seemed to be super nice and friendly. It was a very warm welcome indeed. When you get to foreign countries, it feels good when people show you that they welcome you.
Concertkaki: Yeah, like a wholeheartedly-warm welcome right?
Thomas: Exactly. Absolutely!
Concertkaki: Cool. Next, can you tell us more about yourself?
Thomas: Erm… I am a DJ and a producer; from Germany, based in Berlin. Actually Berlin is a techno city, though I am not doing anything techno but I still love to live there because there's nice influence that I can get. I mean, I have been in music for a couple of years and have been doing a lot of styles. I've been in the progressive house stuff and treble stuff. I recently released tracks on Protocol and Revealed. Now, I am also releasing a lot of stuffs on Armada. Actually I am working on an album. This is the big news for this year and this is very exciting because it's going to be very different in sound. Yeah, my music is my life and passion. I've been travelling around the world to deejay.
https://www.instagram.com/p/BGjjwO0tXj7/?taken-by=thomasgold&hl=en
Concertkaki: That's exciting! So how is it like to be playing on the main stage of Ultra Korea?
Thomas: Haha, it's amazing! I saw the pictures from the last two days and they're cool. This is my second time in Korea but it's my first time playing for Ultra Korea. So yeah, I played Ultra before in Miami so, I know a little about the vibe and I can already know that the people are crazy out there.
Concertkaki: Since you've been performing across many countries, which one is the most unforgettable one for you?
Thomas: I would say when the first time I played in EDC Las Vegas on the main stage, when I was there for the very first time, there were just goosebumps. All these people in front of me… Avicii and Swedish House Mafia played right after me and I was standing behind them on the stage. It was such an exciting day, like the whole day and night. I mean, there were so many different things that I did like travelling to America and playing in Asia. For example, Ibiza is also one of the highlights and playing in Ushuaia. So there are a lot of stuffs. Yeah.
Concertkaki: Can you tell us more about the collaboration with Rico and Miella on the track "On Fire"?
Thomas: When I was about to do a new track and I thought, "who could sing it? Who could sing the new track and who can do the vocal?" I always love what Rico and Miella have done in the past. So I just contacted them and we got in touch. Then, I asked, "Hey, are you guys up for a collaboration to work together on a track because I really like your sound and how you write your vocal and those stuff." They were up for it and we started working on the idea. We just fell in love with the track instantly. All of us. Well yeah, we really worked together on this track. It was a really nice collaboration. During the On Fire Tour in March and April, I brought them onstage for a couple of times so, they joined me and that was really fun! Those guys are awesome. I really appreciate what they did.
Concertkaki: Yeah, you guys made a great track for sure! Well, how do you usually prepare yourself before a set?
Thomas: I think about what the crowd is gonna be like, how long is my set time, what kind of vibe I should be expecting; and then I just look into my pool of tracks, the new tracks and old tracks. For example, I just did some editing at the hotel today. I just want to give people the best time when I play my 60 minutes you know.
Concertkaki: Lastly, any chance you might be performing in Malaysia?
Thomas: Yes, I hope! I was so close to Malaysia already, I was in Singapore, you know. We could just drive past the border and I was yeah man, I need to go there.
Concertkaki: Hahah, alright we hope to see you in Malaysia soon!
Thomas: I hope too.