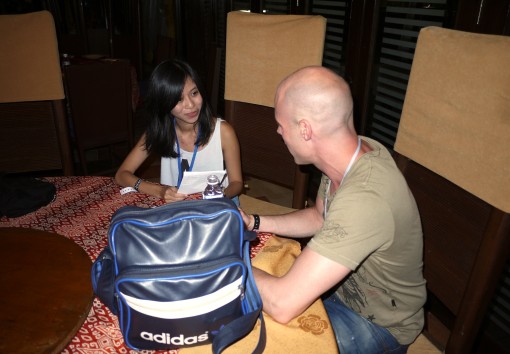 DJ Ran-D is more than just talents. He is unique is his own ways. Every track he has produce and created came straight from his own voice and mind. Ran-D is one of the few DJ that creates his own sound and music. Perfectionist is what he called himself, and it is definitely proven from his sets.
We managed to catch up with DJ Ran-D during his appearance in Mysterious World Asia 2014 in Sarawak Cultural Village.
Concertkaki: What initially attracted you to DJing and what hardstyle genres in general?
Ran-D: I decided to start DJing in the year 1999 in the city, when I saw Tiesto, I saw him playing there, I think that was one of his big gigs. When I saw that, I immediately thought, wow, that is what I wanted to do. This is so awesome. I bought some turntables back then and it was still vinyl, immediately I like the beat more raw and hard stuff. So I played some stuff from Scott Project, Psychedelic, and then Hardstyle came up. That is all how it started.
Concertkaki: What is a key difference you see within the music scene when comparing back when you just starting DJing to the present day?
Ran-D: There is a lot of difference. Back then it was harder to play vinyl than cds. Today you have options like rekordbox, BPM meters, and that brings a lot of new options into the game and that's just way different than vinyl. With vinyl, it took a lot of effort to get the tracks to be in the same rhythm. But now you can do a lot with acapellas and you have more room for creativities.
Concertkaki: So you mentioned that you just came back from Korea. How was it?
Ran-D: Korea was really nice actually. The party we played at is World DJ Festival. It was my first time in Korea, as it is here in Malaysia. Both experiences is happening really good so far. I'm really happy.
Concertkaki: So we have a final question for you. What are you looking forward to most as 2014 rounds to a close?
Ran-D: Wow. I have a few cool gigs in my agenda now but let's see, what else am I looking forward to. I'm making a new EP, and I have finished two tracks so far. I have one plan, when that's finish, im going to release my new EP. And that's something I'm looking forward to. Because it is my new song and my new note and it sounded a little bit rawer than I used to.