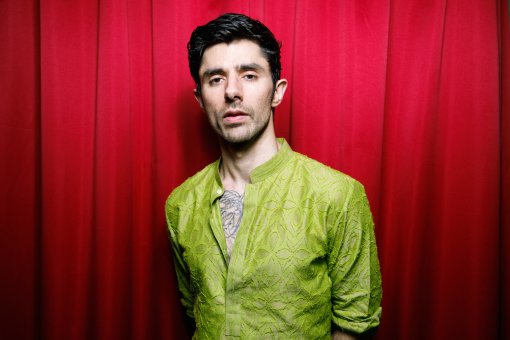 Niles Hollowell-Dhar, or more commonly known as KSHMR, is an American-Indian EDM producer who was once known for his anonymity. KSHMR was originally part of the hip-hop production duo, The Cataracts, releasing hits such as "Like a G6" with Far East Movement. Soon, the duo split, and he then launched his solo alias as KSHMR. Topping Beatport charts and buzz charts, KSHMR was still very much anonymous until he was introduced to the public on the 27th of March 2015, at the UMF stage by Tiësto while launching his first single, Secrets, which featured Tiësto and Vassy as well.
It's been a pleasure to be able to have an interview session with KSHMR just hours before his performance.
Special shoutout and thanks to Heineken Malaysia for this amazing opportunity!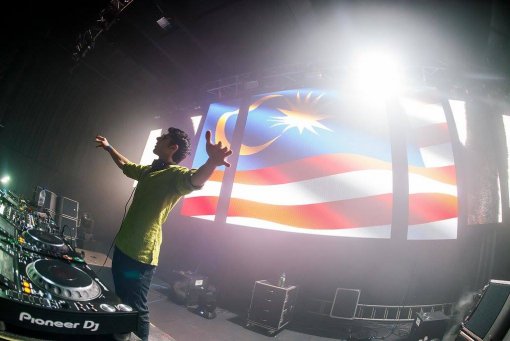 Concertkaki: Hello KSHMR, first off, welcome to Kuala Lumpur! As this is your first time in Malaysia, how excited are you?
KSHMR: Yeah, I'm extremely excited for tonight's show! In fact I heard it sold out? It's going to be great!
Concertkaki: We heard that you've just come back from the Maya Festival in Thailand. Would you like to share the experiences you had there?
KSHMR: They had this incredible stage, with a Mayan mask behind it. It was this big mask, and when you looked at it from the crowd, it displayed different emotions and it moved around, it was a truly incredible experience.
Concertkaki: You've collaborated with Marnik to produce two amazing Sunburn Festival anthems for 2 consecutive years, "Bazaar" and "Mandala". So what was it like working with Marnik?
KSHMR: Simply fantastic, they're amazing producers because they're the kind of guys who'll make your life easier when you collaborate with them. I'd shoot them ideas, they'd shoot me back with better ones. We could go back and forth. They really won't miss the mark in terms of their ideas. In fact, I think they've never given me anything bad before.
Concertkaki: At the Sunburn Festival 2016, we saw you bring your grandfather up on stage and how that moment brought you to tears. Would you like to share us your thoughts on that moment?
KSHMR: Right, bringing my grandpa on stage. So my grandpa still lives in India of course, and he flew to Pune and came on stage with me. He didn't know it but I prepared a small tribute for his late wife, which was my grandma. I used the songs Dadima and Strong which I made, and asked the crowd to part to form a straight line. I composed the songs in a more emotional and dramatic way, which would make for a more special commemoration of her life and in the end we shared a very special moment on stage together.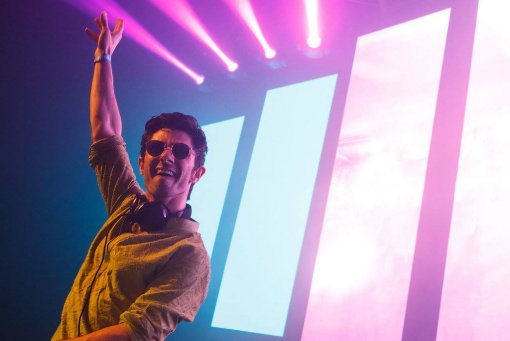 Concertkaki: Moving on, who would you find inspiring to collaborate with? For instance, you've said that you were interested in collaborating with Brandon from The Killers, or Paul McCartney even?
KSHMR: Yeah, Paul McCartney that would be on the bucket list, oh and Hans Zimmer too, who is an amazing film composer. Hans Zimmer will truly be an inspiration because he somehow always manages to find magic in his music and it gives the movie different elements.
Concertkaki: Right. So DJMag have ranked you as 12th in the top 100 DJ's from across the world, how do you feel about that?
KSHMR: Ah yes, definitely amazing. It's really humbling to know that so many people voted for me, but I have to try not to take it too seriously. Because if I do allow myself to get too excited about a number or a value, I might set myself up for failure or disappointment. For instance, what if I dropped to 30th place because everybody didn't like my music, but I myself liked it? I think that there are certain internal metrics of being an artist and you can't be too blinded by things such as charts.
Concertkaki: Very well put. So what can we expect from KSHMR in 2017?
KSHMR: Well I want to expand and find new ways to present instruments and ideas from around the world. In not just a danceable form, but in a new and modern form that is exciting to me. Although I love traditional instruments, I feel that isn't enough, at least for me. I have to give my fans the same intensity, the heightened emotions that prevails in dance music. I want to match the intensity of dance music regardless of what instruments are used, and that is the bar I'll be setting for myself this year.
Concertkaki: Okay for the last question, how much time do you usually spend making a track?
KSHMR: It really depends, Secrets, for instance, from the time where Vassy recorded it in my house, to the date it came out, was probably a year. And I tried so many different approaches, I mean I knew the vocals were great, But I couldn't figure out the instrumentals, the music. And then after months of tinkering, I got the one that was pretty much it. I was confident in it, Tiësto heard it. Together, we were able to just piece it together to form the final product that you hear now today.
photos by All is Amazing!