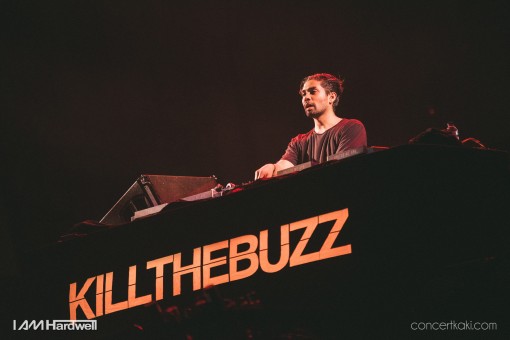 Kill the Buzz, real name Adithya Nanuru, began making music at the age of 10, igniting a passion that would eventually see him playing to some of the biggest crowds in the world and alongside some of the biggest names in electronic music. The Breda-based producer has climbed the progressive house ladder right to the top and is now reaching the lofty heights after receiving well deserved praise from the community and valiant support from the titans of the upper reaches, a cast that includes artists such as Dannic and Sander van Doorn, as well as the legendary David Guetta and current world beater Hardwell. With his 2012 breakthrough track 'Party Hard' signalling to the world that Kill The Buzz was the name to watch, Nanuru has since gone from strength to strength, supporting Hardwell, the biggest DJ on the planet, around the globe as part of his I Am Hardwell series of shows, signing to Revealed Recordings and releasing some of the most vital progressive house of the past few years.

We managed to catch up with him and had a little interview session.
During your Asia tour with Hardwell to Kuala Lumpur, Jakarta and lastly, Taipei, which city do you think is the best?
From the cities that I went to in Asia, I have to say that I love all of them. I've been to KL and Jakarta multiple times. Also the fact that my parents are from Indonesia makes it special to go to Jakarta and I made good friends in Kuala Lumpur. But I have to say that the energy in Taipei was insane!
We were glad to see you play a b2b set with Goldfish and Blink during the After Party at Zouk Kuala Lumpur. What was it like to play with them?
Goldfish and Blink became good friends since I met them the first time a couple of years ago in KL. When Blink asked me to come and do a B2B session in KL I was immediately stoked to go with them on stage, they have such a great energy and they really know how to please the crowd!
Any possible collaboration with the boys in the future?
Goldfish & Blink are great and we have been working on a collaboration 😉
During the "I am Hardwell" Jakarta Press Conference, we heard that your parents are actually from Indonesia. Were you excited to come back and play here?
Definitely! It's always special to play at a location where your roots are. It feels like home but then far away from my own home!
Will you be collaborating with any Indonesian DJ's in the future?
There is not one on the schedule right now, but if someone has a great idea on which I can collaborate, who knows. I'm always up for it!