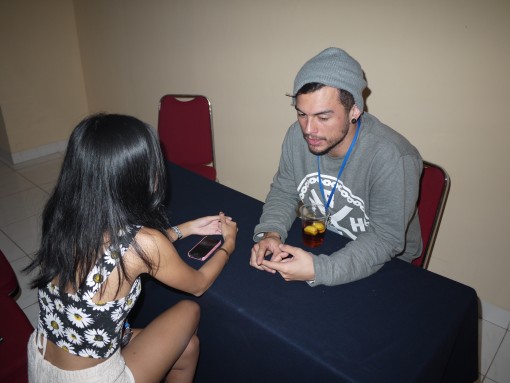 Adventure Club is an electronic dance music duo based in Montreal. Both Christian Srigley and Leighton James started their interest into EDM music in the early 2009 and formed Adventure Club together after their first remix was put on The Hype Machine.
Before pursuing their dream as an electronic dance music duo, Christian and Leighton were both in hardcore pop-punk band during high school. Soon enough they both realized they have always been more into electronic music and the rest was history.
We managed to catch up with the boys in Djakarta Warehouse Project 2014 in Jakarta, Indonesia. It is a huge privilege to catch up with the boys as their story before forming Adventure Club was an interesting story to wrap up as we wonder how from being in a Hardcore pop-punk band into the biggest electronic dance music duo.
Concertkaki: We knew that you guys used to be in a hardcore pop-punk band right?
Adventure Club: (Laughs) Yes, we were in a very cheesy pop-punk band. It was pretty cheesy. You remember Simple Plan? Yeah, we were sort off into that kind off direction back then. It was super cheesy.
Concertkaki: We were pretty curious though, how does being from a hardcore pop-punk band into DJ?
Adventure Club: Well back then we played a lot of heavy music and from there; we pretty much have some electronic music in between. I guess from there we both knew that we have more interest in producing electronic dance music tracks.
Concertkaki: What are differences right now between being in a band and being a DJ besides the music genre?
Adventure Club: Well, we have been in a band for 10 years and DJ for 3 years. We are obviously more successful as a DJ right now to be honest. We do love playing heavy music back then as a band but we realized DJ is more us. Of course we miss being in a band from time to time though. We even have a few DJ friends that we have spoken to and we thought of starting a hardcore band! (Laughs)
Concertkaki: That would be pretty cool to watch though. Any future collaboration for the time being?
Adventure Club: We do! But it is a surprise and I can't reveal it just yet. We had a few DJ to collaborate with and we are also thinking of a few bands to collaborate with as well.
Concertkaki: Who are your main influences in the electronic dance music scene?
Adventure Club: Coming up, the only people we really looked up to was Tech One, Skrillex, just to name a few.
Concertkaki: If you don't mind, can you tell us what was the name of the band you guys were in back then?
Adventure Club: (Laughs) No way! I'm not going to tell you! But if you really have to know, it is called Angels Catching Bullets. Super emo band.
Adventure Club performance was beyond amazing during their set in Djakarta Warehouse Project 2014. We had a great time interviewing them and we hoped to see them real soon.