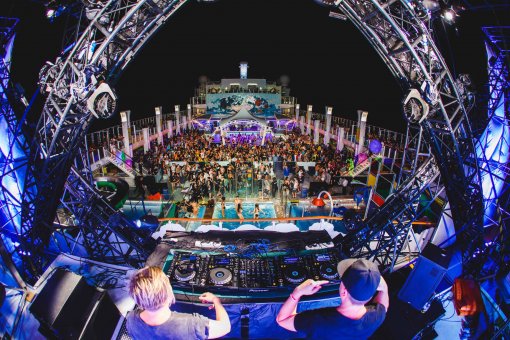 Calling all experience seekers, IT'S THE SHIP is back to excite shipmates again! From the 4th of November, the floating city and its residents will depart from Singapore, journeying to the tropical island of Phuket, before docking back in Singapore on the 7th of November. Shipmates can now secure their cabins at a special early bird price and be on their way to what is sure to be the festival experience of the year!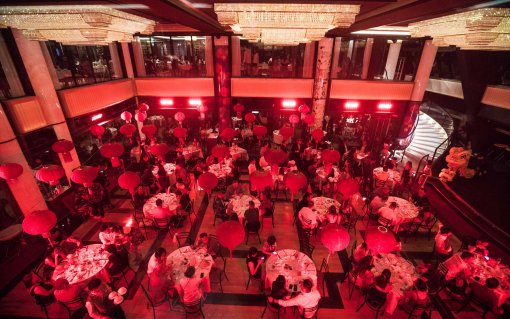 With the best music lineup in a resort setting at sea, IT'S THE SHIP ensures a unique experience for all guests. Luxurious comforts range from the immaculate cabins to spa activities and top notch service all in the confines of a four-day, three-night festival. Dining options such as 24-hour catering and 5 star restaurants onboard the vessel will ensure shipmates are never short of options while sailing the open seas – making it THE festival to be at.
"The 2018 instalment of IT'S THE SHIP will see us focusing our efforts on providing shipmates with an all-inclusive festival experience that showcases an impressive array of artists. Marking our fifth-year sailing, we have prepared an extraordinary adventure for fans, both experience seekers and festival-goers alike. This is going to be a sailing that you wouldn't want to miss so take this opportunity to join us in celebrating our fifth voyage this November," said Cyril Francis, Project Director of IT'S THE SHIP and Managing Director of Livescape Singapore.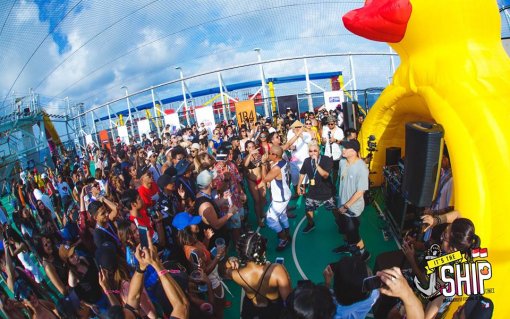 The festival prides itself on being able to provide no two shipmates with the same experience. There is always something new to discover onboard the ship and this ensures an experience suited for everyone. Featuring secret parties, elaborately themed costume parties and one-of-a-kind private shows, IT'S THE SHIP will spoil shipmates with options galore! A staple of the festival is the much awaited Gala Night where shipmates come dressed to the nines to enjoy a swanky themed evening together. Not forgetting the fitness enthusiasts, the festival also includes a range of fitness activities such as morning yoga sessions, 3-on-3 basketball, and soccer, all featuring the best acts who will participate alongside the shipmates! Shipmates can also enjoy a wide range of recreational options including a variety of pools with six water slides, ping pong tables, a mini golf course, and rock climbing wall.
Stopping over on the tropical island of Phuket, shipmates will be able to enjoy the island's sandy beaches or kick back and relax with a beachside massage. Shipmates will also get to sample the local fare and get to know other shipmates from diverse backgrounds in a different setting. The stopover gives shipmates a chance to take a break from the activities onboard and recharge for the next chapter of the festival.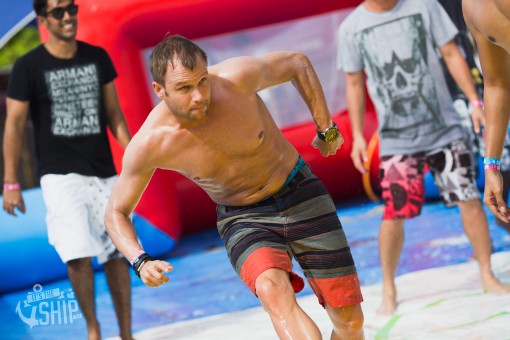 Since 2014, IT'S THE SHIP has captured the interest of shipmates from over 88 countries across the globe, with last year's sailing selling out prior to the cabin sales closing. Housing these shipmates is none other than the Genting Dream, an impressive vessel that boasts the ultimate luxury experience on the high seas with an extensive list of facilities. IT'S THE SHIP has featured a multitude of international artists including Dash Berlin, Yellow Claw, David Hasselhoff, Higher Brothers, Showtek, Sander Van Doorn, Kaskade, Lil Jon, Dada Life, CHVRCHES, Basement Jaxx, Carnage, Knife Party, Ferry Corsten, Andrew Rayel, and Far East Movement in the past.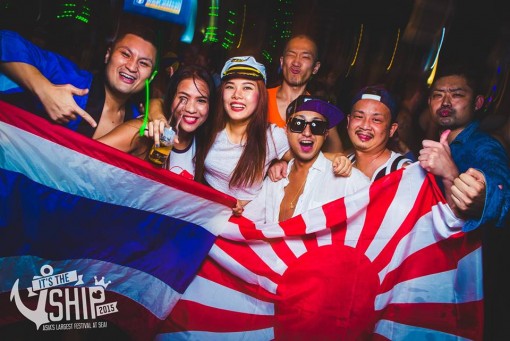 IT'S THE SHIP is a chance for revellers to meet other music fans who have traveled far and wide as well as providing them opportunities to enjoy close encounters with their favourite artists onboard. You'd be hard-pressed to find another festival like this in Asia which encompasses not just a music festival experience, but also a shipcation like no other. Anything is possible on board Asia's largest music festival at sea – IT'S THE SHIP!
Make sure you're not missing out by following IT'S THE SHIP's social channels for all announcements regarding this year's sailing and lineup.
https://www.facebook.com/itstheship/ https://www.instagram.com/itstheship/ https://twitter.com/itstheshipasia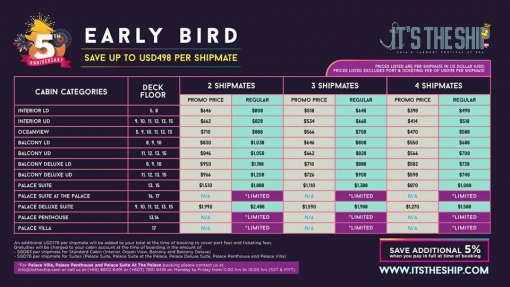 The early bird promotion is now open for all shipmates with cabins going from as low as USD$398 per person. Cabin prices are inclusive of complimentary 24-hour dining, selected non-alcoholic beverages and free usage of most of the ship's facilities. Don't miss out on this promotion by purchasing your early bird cabin now at​ ​www.galactix.asia/itstheship-2018
IT'S THE SHIP 2018 is powered by Auchentoshan Single Malt Scotch Whisky, Jim Beam (Official Bourbon), Roku Gin (Official Gin), Effen Vodka (Official Vodka), Sauza Tequila (Official Tequila), Cruzan Aged Dark (Official Rum), Horoyoi (Official Ready To Drink), MTV Asia (Official Music Channel) and Galactix (Official Ticketing).
FOR MORE INFORMATION AND TO PURCHASE CABINS, LOG ON TO
#ITSTHESHIP #ITSSG18 #MOTHER5HIP