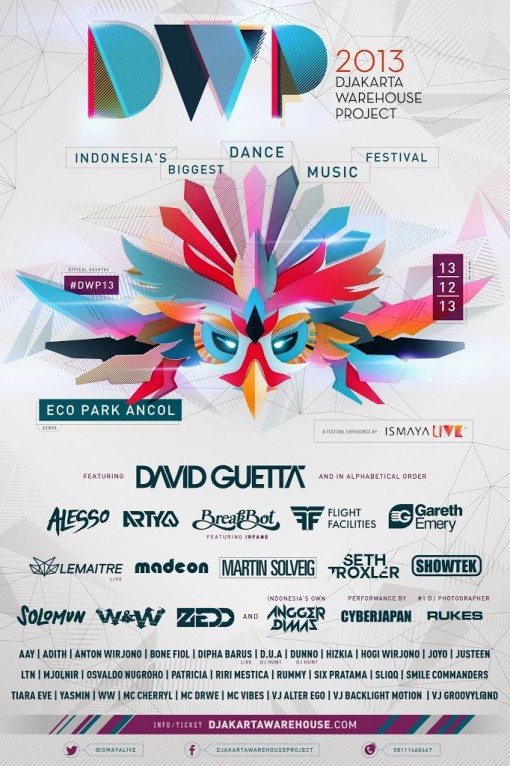 Djakarta Warehouse Project, an annual festival experience by Ismaya Live, is back!
This is the night that you have been dreaming of. Be prepared to dance as one nation under the electric sky! Indonesia's Biggest Dance Music Festival is flying back to your hearts on 13.12.13!
Djakarta Warehouse Project, an annual festival experience by Ismaya Live, is the biggest dance music festival in Indonesia. Started out in 2008, Djakarta Warehouse Project features impressive International and Indonesia's best electronic artists/DJs and VJs in one-of-a-kind dramatic décor, completed with the best quality production of sound and lighting, surrounded by massive epic crowd. Djakarta Warehouse Project presents different music genres, ranging from: Electronic, House, Progressive, Techno, Trance, Drum and Bass, to Dub-step.
Djakarta Warehouse Project 2012 had over 23.000 audiences, with 3 massive stages, 13 International acts, and 23 local heroes.
This year, Djakarta Warehouse Project 2013 set the goal even higher, with even bigger line-up, more massive concept production and other surprises. On 13 December 2013 (13.12.13) starting 4pm, at Ancol Eco Park Jakarta, Djakarta Warehouse Project 2013 will create an out-of-this-world festival experience with superb excitement for all music lovers like they have never experienced before!
Djakarta Warehouse Project 2013 will have two pre-festival events coming up in the next few months. The first is The DJ Hunt. This is where Ismaya Live seeks for potentially great local DJs in Indonesia, new and upcoming, with amazing skills. Winners will have the honor and the opportunity to show off their amazing talent at Djakarta Warehouse Project 2013 (13.12.13). The second is, Road to DWP13, where we celebrate the liveliness that Djakarta Warehouse Project 2013 is coming! Road To DWP13 will go marching on in 10 big cities in Indonesia, also in Singapore and Malaysia.
Continuing to be more successful this year, Djakarta Warehouse Project 2013 will bring the hottest and biggest DJs from all over the world. Names like DAVID GUETTA, ALESSO, ARTY, BREAKBOT (LIVE), FLIGHT FACILITIES (LIVE), GARETH EMERY, LEMAITRE (LIVE), MADEON, MARTIN SOLVEIG, SETH TROXLER, SHOWTEK, SOLOMUN, W&W, and ZEDD announced as the international artists on the line-up. This event will also be supported by our very own local DJs and VJs, such as ANGGER DIMAS, HIZKIA, RIRI MESTICA, WW, YASMIN, and many more. Also, with special performance by CYBERJAPAN DANCERS.
Ticket prices, are:
Early Entry (Limited – 2000 tickets only): IDR 425.000 (max 8 tickets per transaction)
*Early Entry ticket holders must come to #DWP13 before 19:30, or else ticket holders must upgrade ticket to normal price
Early Entry 2 : IDR 500.000 (max 8 tickets per transaction)
PRE-SALE 1 (Limited – 2000 tickets only): IDR 450.000 (max 4 tickets per transaction)
PRE-SALE 2 : IDR 500.000 (max 4 tickets per transaction)
PRE-SALE 3 : IDR 575.000 (max 8 tickets per transaction)
Djakarta Warehouse Project is strictly an +18 event!
Official Facebook page : www.facebook.com/ismayalive
www.facebook.com/djakartawarehouseproject.com
Official Twitter : www.twitter.com/ismayalive