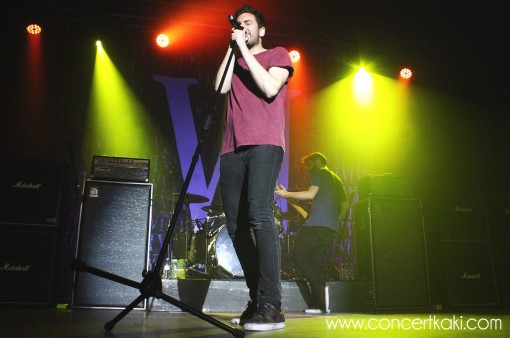 British Rock Band, You Me At Six sets to perform in Kuala Lumpur, Malaysia for the very first time. Held in Kuala Lumpur Live Centre, the night was expected to pull out at least 2,000 fans.
The band consists of five members such as Josh Franceschi ( Lead vocals ) Max Helyer ( Rhythm guitar ) Chris Miller ( Lead guitar ) Matt Barnes ( Bass guitar ) and Dan Flint ( Drums, percussion ). The band was formed back in the year 2004 and only started to get more recognition by the year 2008 with the album, Take Off Your Colours. We were told that the band's main influence were Incubus, Blink-182 and Thrice. It is no wonder that their music has such a strong vibe and influence.
Die-hard fans that have stayed loyal to You Me At Six were definitely anticipating this day. For almost 10 years of waiting and wondering if this British Rock Band were to ever step their feett on Malaysia has finally come to an end. Livescape Asia has managed to successfully grant the fans wishes by bringing the boys to Kuala Lumpur Live Centre.
Local band, Tres Empre was set to open for You Me At Six. It couldn't get anymore better than rocking out to Tres Empre for a pre warm up session before we start headbanging to You Me At Six. This time around, the fans didn't have to wait that long for the boys to show up on stage. Fans were screaming from the top of their lungs the moment You Me At Six was on sight. The smiles on their faces were sincere and genuine to see the amount of screams and fans calling out to them. Without any time wasted, drumbeats and guitar shredding sets out to capture everyone's heart.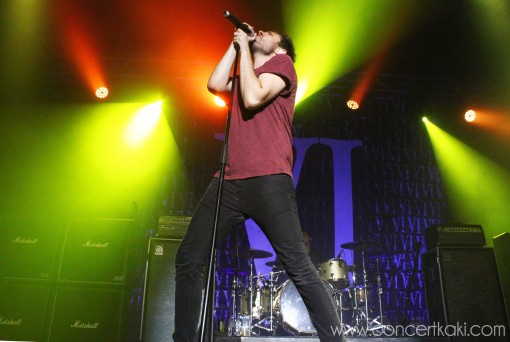 Josh Franceschi was beyond amazing. Swinging from left to right of the stage by giving the crowd every photographic memory of his moves. Even though he accidentally twisted his ankle on stage, Josh still managed to give us the best of him. The pain wasn't even written on his face in fact he sang even more beautifully. The fans were definitely satisfied and was a tad worried if he was all right.
The night ended well with full satisfaction as usual. The boys had everyone singing along most of the time and it was definitely something remarkable to witness all that.  We only hope Josh will recover quickly throughout their whole tour. You Me At Six live in Kuala Lumpur, another successful night to remember.