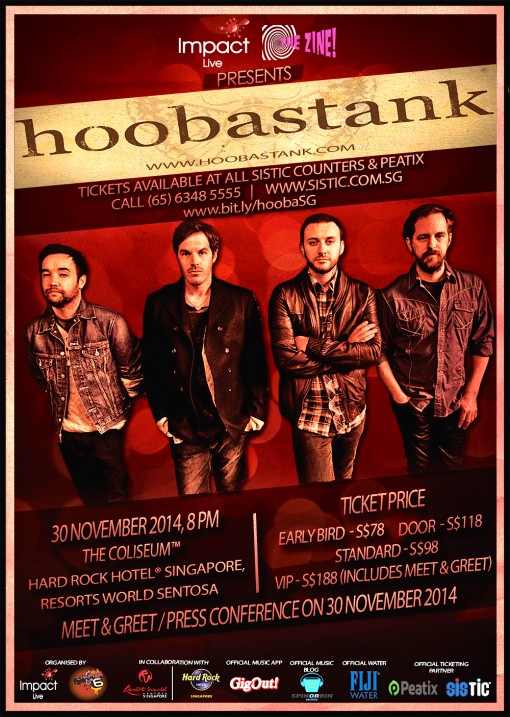 Modern Rock band Hoobastank returns to Singapore for a one-night only live concert at the Coliseum Hard Rock Sentosa on the 30th November 2014. Best known for their mega hit "The Reason" which top the radio charts in Singapore, Hoobastank are pulling no stops for their 2014 Asia tour and promise an electrifying performance. Concertgoers can expect to hear hits like "Crawling in the Dark", "Same Direction", "Remember Me", "The Reason" and songs from their latest album.
Event Title: Hoobastank Live In Singapore 2014
Date: 30th November 2014
Venue: The Coliseum Hard Rock Hotel, Resorts World Sentosa
Time: 8.00pm (Doors open at 7.00pm)
Tickets: On sales from 24th July 9am at Sistic website and at all Sistic counters. Also available at Peatix
Ticket Price:
VIP $188 (include free flow of beer and Meet & Greet)
Standard: $98
At Door: $118
Early Bird $78
All ticket prices on Sistic exclusive ticket charges. Peatix all inclusive.
Event Hashtag: #hoobastankSG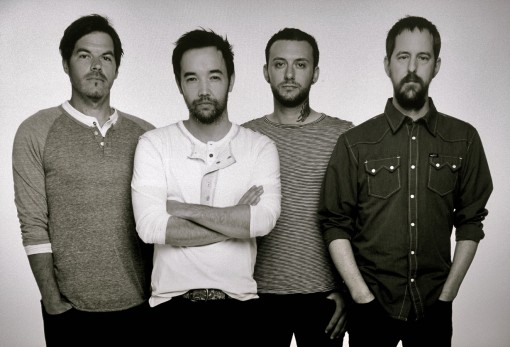 "The Reason" was released in the first half of 2004. It became a hit, reaching 
No. 2 on the Billboard Hot 100, No. 1 on the US and World Modern Rock 
charts, No. 10 in Australia and No. 15 in Germany. The song was also played 
during the final episode of Friends. In Canada, it spent 21 weeks at the top, 
setting a new record for most weeks at No. 1. Meanwhile in the United States, 
the album reached No. 3 on the Billboard 200 album chart.
Their third album Every Man for Himself was released in May 2006 
and debuted at No. 12 on the Billboard chart. Three singles, "If I Were 
You", "Inside of You", and "Born to Lead", were released. The album has 
been certified Gold in the United States.
The first single "My Turn", from Hoobastank's forth album, premiered on radio 
October 13, 2008. The album ForNever was released on January 27, 2009, 
as announced by Doug Robb in a blog entry on the band's official website. 
The song was featured as the theme song for TNA Wrestling's Destination X 
2009 Pay Per View. Greatest hits album – The Greatest Hits: Don't Touch My 
Fight or Flight, the new album from Hoobastank, marks the beginning of 
what promises to be a vital new chapter in the nearly two-decade run of 
the versatile L.A. band. This musically and emotionally intense work is 
Hoobastank's initial release on Open E Entertainment (EMI) following a 
productive decade on Island Records during which they ruled the modern rock 
Robb, Estrin and their cohorts have come full circle, taking the reins of their 
collective destiny, just as they did back in the '90s when, barely out of high 
school, they charged out of their West Valley 'hood to become part of a posse 
of similarly brash and versatile young SoCal hard rock bands like Incubus 
and Linkin Park. Now, once again, they're challenging themselves, and 
they've responded with what stands as Hoobastank's most accomplished and 
"We've been on this journey for a long time now," says Robb, "and we've 
come to a greater appreciation of what motivated us when we were first 
starting out: We play music, enjoy each other's company, have a good time 
and let the chips fall where they may. It's like a clean slate, but not in a bad 
way—quite the opposite. We're no longer trying to satisfy others, not even on 
a subconscious level; we're comfortable in our own skin. We know who we 
are and we know what we do, and there's a certain amount of peace in that."