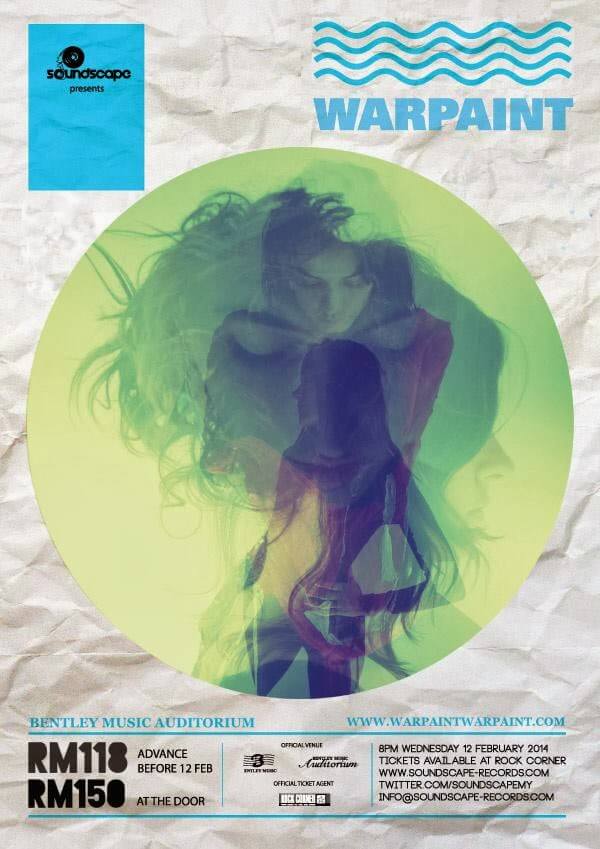 WARPAINT LIVE IN KUALA LUMPUR
Soundscape Records is proud to present Los Angeles all-girl quartet, Warpaint, Live in
Kuala Lumpur on 12th Feb at Bentley Music Auditorium.
Warpaint weave intricate guitar lines, hypnotic vocals and driving post punk rhythms into
gorgeous, sprawling songs that skirt the line between psychedelia and intimacy. Both
live and on record, Warpaint sound like they're channeling something truly otherworldly,
The band recently announced the follow-up to their 2010 critically-acclaimed debut, The
Fool. It's self-titled, spans 12 tracks, is set to release on 20th January 2014 via Rough
'Warpaint' was co-produced by Warpaint and Flood (PJ Harvey, Sigur Ros, New Order,
Nick Cave & The Bad Seeds and Foals), and mixed by Flood and Nigel Godrich
(Radiohead). The album was conceived after some writing and recording sessions that
took place in The Joshua Tree late last year. Here the band was joined by visionary
director Chris Cunningham who has partnered with them for many of the album visuals
including the cover. He has spent the past two years filming and photographing the
band as they made 'Warpaint'.
The group will also contribute a cover of 'The Chauffeur' to a forthcoming Duran
Duran tribute album released in aid of charity next year and will return to the region in
February to promote the new record, starting at Laneway Festival in Australia, the fourpiece
will then perform in a few Asian cities, including Kuala Lumpur.
Warpaint is Emily Kokal (vocals/guitar), Theresa Wayman (vocals/guitar), Jenny Lee
Lindberg (bass/vocals), and Stella Mozgawa (drums).
The first single 'Love Is To Die' is available for full audio stream here:
For further details on the new album, visit the band official website –
Pre-sale tickets at RM118 are available at Rock Corner and