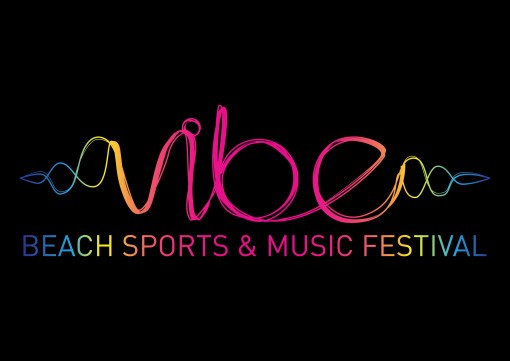 Work that body at VIBE – Singapore's First Lifestyle Beach Festival
Bringing the rhythm of sports and music together to create the ultimate sporting party at the beach
 The inaugural VIBE Beach Sports and Music Festival is poised to bring together sports and music for a fun‐fuelled 15‐hour outdoor party extravaganza at Sentosa's Siloso Beach on Saturday, 21st March 2015, from 10.00am to 3.00am. Transforming the beach into a multi‐ sport playground of Beach Soccer, Beach Volleyball and a record‐breaking Beach Zumba dance by day, and an adrenaline pumping beach party at night, Singapore's first lifestyle beach festival aims to draw a total of 5,000 sport aficionados and music lovers as they sweat it out during the day and party the night away!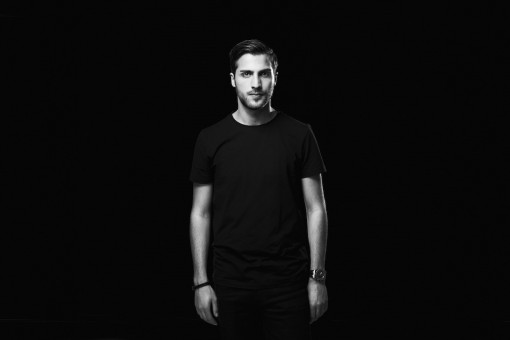 VIBE Beach Sports and Music Festival is a first of its kind event combining organised team sports and a music festival rolled into one. Internationally‐renowned DJs AN21 (Sweden), John O'Callaghan (Ireland) and a 3rd DJ to be announced are set to fire up the night with pulsating trance and house tracks for an electrifying, unforgettable night under the stars.
"VIBE Beach Sports and Music Festival aims to create a unique experience as it transitions from a lively day party to an exhilarating beach party by night. A combination of sports and music, the festival promises an enjoyable and exciting time for both beach sports enthusiasts and partygoers alike", said David Thomas, the festival's project director.
Set against the backdrop of sun, sand and sea, different music genres by a total of seven local and regional DJs, such as Miles Slater (HK) and Joshua P (KU DE TA), will fill the air as beach sports competitions take place in the day.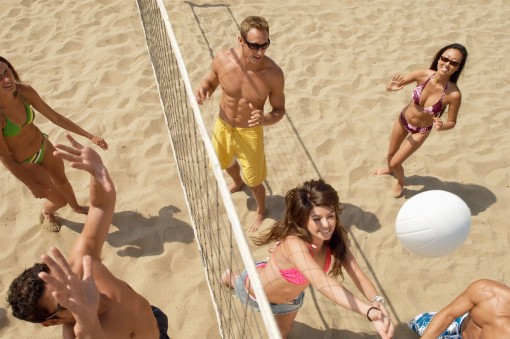 Partnering with the Volleyball Association of Singapore for the beach volleyball competition and Pro‐ Am Beach Soccer from the United States (organiser of numerous American and International Beach Soccer events) for the beach soccer competition, up to 32 amateur teams per sport discipline will pit their skills against each other to win cash prizes of $800 for the 3rd prize, $1,200 for the second prize and $1,500 for the top team. The winners will walk away with VIP passes to the night party as well. Interested participants are required to register in teams at the official website.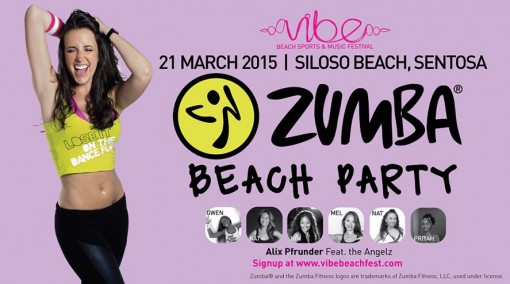 VIBE will also attempt to break the "Largest Zumba Dance in Singapore" record with at least 1,200 participants led by French celebrity Zumba Instructor Alix Pfrunder. Having opened for previous music festivals, Alix will deliver a high octane and upbeat workout that will keep participants energised and even onlookers moving to the beat.
TICKETING AND OTHER INFORMATION
Tickets for VIBE Beach Sports and Music Festival are available at 
https://vibebeachfest.eventclique.com/Online/default.asp
Event Date: 21 March 2015, Saturday
Time: 10.00am – 3.00am (Next day)
Location: Siloso Beach Sentosa, Singapore
More information:

www.vibebeachfest.com 

https://www.facebook.com/vibebeachfest

Ticket sales start from 27 Jan 2015.

‐ Volleyball (Team of 6) ‐ $180.00
‐ Beach Soccer (Team of 7) ‐ $210.00
‐ Top‐up for entry into music festival: $120.00 for Volleyball Team of 6 / $140.00 for Beach Soccer Team of 7

$35.00
‐ Participants who arrive before 5pm enjoy complimentary access to the night party.
‐ Participants who arrive after 5pm are required to purchase tickets to the night party.

Special Launch (27 Jan to 30 Jan 2015) ‐ $50.00 ‐ limited to 800 tickets, while stocks last.

Early Bird (31 Jan to 15 Feb 2015) ‐ $70.00 Online (16 Feb to 20 Mar 2015) ‐ $90.00 Door (21 Mar 2015) ‐ $110.00

Promotions (All Day Access)

VIP ‐ $1,588.00

(Includes: Entry for 6 pax, 2 premium bottles, 4 mixers, 1 champagne, 20 shooters, 1 Table with seats at exclusive VIP area)
Bottle ‐ $1,188.00
(Includes: Entry for 6 pax, 2 housepour bottles, 10 shooters, 4 mixers, Standing table at exclusive VIP area)

6471 4161 (contact person: Adam)

Ticket prices stated above do not include entry fee into Sentosa. Admission to the party is only for 18 years and above. The organiser reserves the final right to refuse entry.