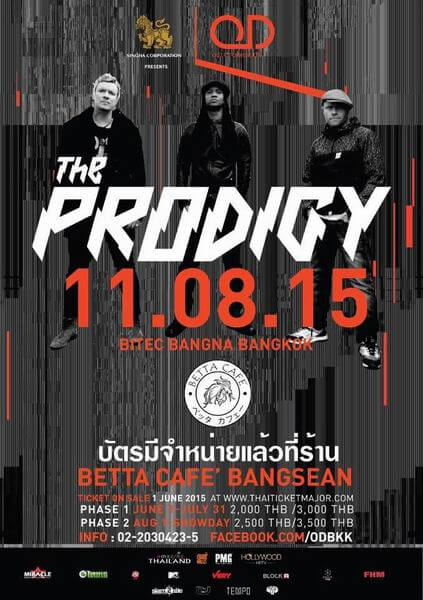 " OD " The Prodigy & More. 
" OD " – Out Of Dimension.
The Big Day of Thailand Electronic Music
Line Up
** THE PRODIGY ** (Live ! and Full Production )
Barbies / Gene Kasidit / Kidnappers / DJ Suharit / Spydamonkee / DJ Seed / Stylish Nonsense / DJ Pichy / MC Tul Apartment Khunpa/ Kingkong Zoo Studio / Superrzaaap Djs / Sunju Hargun / MELA 's Djs feat. Krit Morton & Kova O' Sarin
11th AUGUST 2015
BITEC Bangna H106 ,Bangkok
+Bring Your ID 
– Ticket –
Ticket Available at Thaiticketmajor 
http://www.thaiticketmajor.com/concert/od-out-of-dimension-2015-th.html
Ticket Phase 1 : June 1st – July 31th 2,000/3,000 THB.
Ticket Phase 2 : Aug 1st – Show Day 2,500 / 3,500 THB
More Info call 02-2030423-5 or contact
www.facebook.com/events/618821034929076/
https://www.facebook.com/odbkk
Vital and vitriolic, on stage The Prodigy are a snarling force to be reckoned with, a maniacal beast of epic proportions. This will be Aussie fans' only chance to see the iconic trio at their very own special headline show, where they'll perform never before heard songs – the first audience in the world to hear the new cuts! – from their upcoming sixth album The Day Is My Enemy (due out March 27 on Take Me To The Hospital/Cooking Vinyl). And you'll get all the genre-defining classics such as 'Voodoo People,' 'Breathe', 'Firestarter' and the brain-ransacking anthem 'Smack My Bitch Up.'
Premiering as Zane Lowe's Hottest Record in the World on BBC Radio 1 and straight into instant high rotation on triple j, The Prodigy's new single 'Nasty' immediately proves just why Liam Howlett, Maxim and Keith Flint continue to inspire legions of dance artists and fans across the globe. Simply put, no one comes close to the frenetic, hardcore rampage of a Prodigy show.
"I'd describe 'Nasty' as someone giving you a cheeky wink and a punch in the back at the same time," Liam Howlett told triple j Breakfast hosts Matt and Alex in an exclusive chat recently about their upcoming LP, described as a disc "about the angry humanity existing in the decay of the urban nightmare." "It's not dark this record, it's got a violent energy about it," Howlett said. "It just doesn't stop, it's quite.
relentless, a very on-the-edge sound – but I would say it's classic Prodigy. It sounds… firing, like someone's poking you."
The UK legends have been leading the pack ever since they first stepped out in the early '90s. Unafraid and untethered, in 2015 The Prodigy are at the top of their game. Put your hands in the air, practise your most insane dance moves and get ready for the one and only Prodigy!