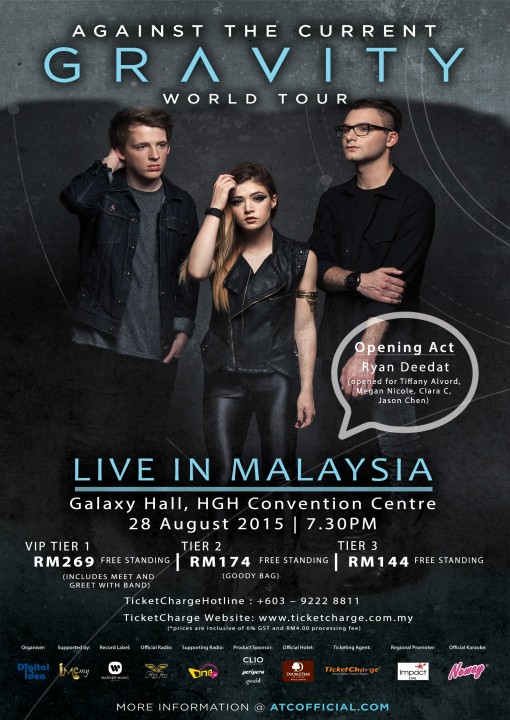 Against The Current is female fronted pop-rock band from New York. Formed in 2011 before any member was even old enough to drive, the group quickly gained momentum by posting videos on their YouTube channel (Youtube.com/againstthecurrentny) which
currently boasts more than 1 million subscribers. After independently releasing 2 EPs, dozens of singles, and touring the globe without the support of a major label, the band signed to Fueled By Ramen/Atlantic Record during the winter of 2015.
The band is embarking on a headlining world tour summer 2015 in support of their recently released GRAVITY EP with stops in Europe, Asia, Australia, and North America. Against The Current's major label debut is due out winter 2016.
Digital Idea is the promoter for Against The Current 'Gravity' live in Malaysia 2015. The Concert will be held at Galaxy Hall, HGH Convention Centre, Kuala Lumpur on the 28th August 2015. Showtime is at 7.30 pm
Concert tickets will be launched on June 15 (Monday) at 10 am via Ticketing Agent, Ticket Charge. It will be available online as well as at selected stores. For more information please log on to their website at http://www.ticketcharge.com.my.
You may also contact Ticket Charge Hotline +603-92228811 to purchase the tickets. Outlet sales will also start on the same day and available at Ticket Charge office, Speedy Music Store, Rock Corner Music store, Victoria Music Center and Neway Karaoke outlet.
Ticket prices for AGAINST THE CURRENT LIVE IN MALAYSIA 2015 is as per below:
VIP Tier 1 – RM269 (Free standing) comes with Artist Meet & Greet
Tier 2 – RM174 (Free standing) comes with goody bag
Tier 3 – RM144 (Free standing)
** Ticket prices are inclusive of 6% GST and RM4 ticket processing fee.
For more information on the concert, visit Digital Idea official Facebook page or
Against The Current official Facebook.
https://www.facebook.com/againstthecurrentband and world tour website.
http://www.atcofficial.com/tour/
For more information, contact: 019 206 3844