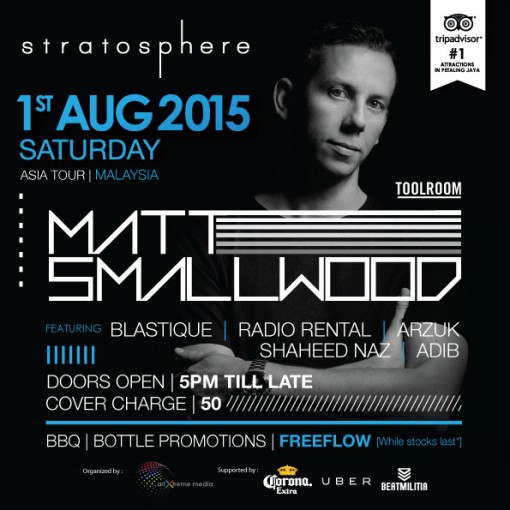 Art Xtreme Media and Stratosphere at The Roof present: DJ Matt Smallwood (Toolroom)
For those of you who are not yet familiar with his music, it is love at first listen : the infectious grooves, vibrant melodies , surprising and well crafted delivery,versatile and energetic.
Now serving the ranks of Toolroom Records as a resident DJ for their award winning Toolroom Knights events he is continuing to build his career beat by beat travelling all over the world and delighting his audience with his sounds. From Brazil to New Zealand, From Corsica to France and Ibiza he is caring the almighty Toolroom flag, the biggest and most successful House label in the world.
The London -based DJ/Producer is a rare yet reliable underground force through his solid productions defined by a delicate twirl of individuality yet having a powerful impact, big drops, surprising charisma and hypnotic loops. The dynamic expression of his skills releases a very current vibe on the dance floor , cosmopolitan yet innovative.
Named Carl Cox's producer of the year in DJ Mag, Matt has enjoyed a huge success on the production front with over 30 single releases and 15 remixes on some of the World's most prestigious labels! His release 'Perfect Sunrise' has proved to be the highlight of his production career so far and ,signed to Toolroom Records.
When we say we ran out of superlatives, we have not yet revealed Smallwood's progress this year! 2015 has seen Matt producing one of the most exciting tracks on the Toolroom Ibiza 2015 compilation- "Access" that undeniably will top up the house music charts this year. Needless to say the support he received comes from the heavies of the House music world deservedly so, as "Access" to Matt's career is as close to perfection as one can get. Possibly one of the best-timed songs of all time!
What to expect: An Affair Extraordinaire!
BBQ + Beer Pong tournament before sunset
Featuring:
Blastique
Radio Rental
Arzuk
Shaheed Naz
Adib
Supported by:
Uber
Beat Militia
Corona
Cover Charge : RM50 inc of 1 drink
Freeflow from 5PM onwards *while stocks last
Promo: RM100 for 1 bucket of Corono (5 btls)