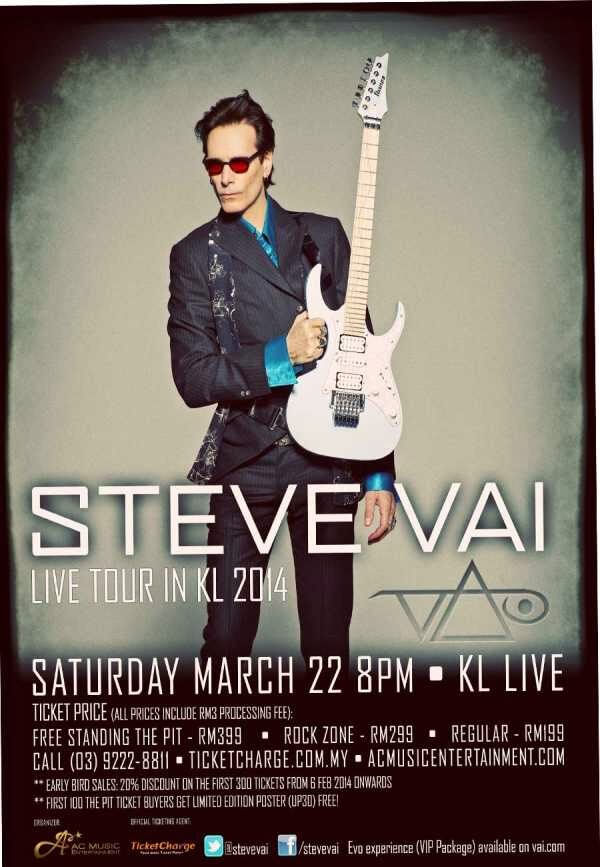 STEVE VAI LIVE TOUR IN KUALA LUMPUR 2014
AC Music Entertainment presents "Steve Vai Live Tour" in Kuala Lumpur with the legendary guitar virtuoso STEVE VAI and his band at KL Live on March 22, 2014. A must see show for those who loves musicianship; to witness his skilful demonstration, his passion and his artistry LIVE is an event in life that you will never forget.
In year 2000, Vai made his first appearance featured G3 in Kuala Lumpur which mark a remarkable event for music lovers. After an overwhelmingly enthusiastic response to his over 90 shows performed worldwide last year on his "Story of Light 2013 Tour", he is back in Kuala Lumpur once again.
For more than three decades, a record 15 million in album sales, and three GRAMMY Awards later, Vai has proven himself, in his own right, one of music's true originals. Vai was officially named the "douchiest guitarist of all time" and being among the prime examples. He was also named the fastest, the best, the most influential and revolutionary guitarist.
"The Story of Light" is Steve Vai's first studio record in seven years. The album expressive 12 songs set continues a conceptual and cosmic narrative arc begun on the artist's acclaimed album Real Illusions: Reflections (2005). The storyline follows the journey of a man driven mad by grief, intertwining tragedy, revelation, enlightenment and redemption. The record was release on Favored Nations Entertainment, the label Vai founded in 1999. After having played over 90 shows so far on his Story of Light 2013 Tour, the guitar god and visionary composer added Singapore and Malaysia additional run for his 2014 World Tour.
Ticket prices are categorized into free standing RM 399 (The Pit), RM299 (Rock Zone), RM199 (Regular). Early-bird sales on Feb 16, 2014 onwards with a 20% discount on the first 300 tickets. First 100 The Pit ticket buyers get limited edition poster (UP30) free! (The organizer will contact the ticket holders for poster collection).