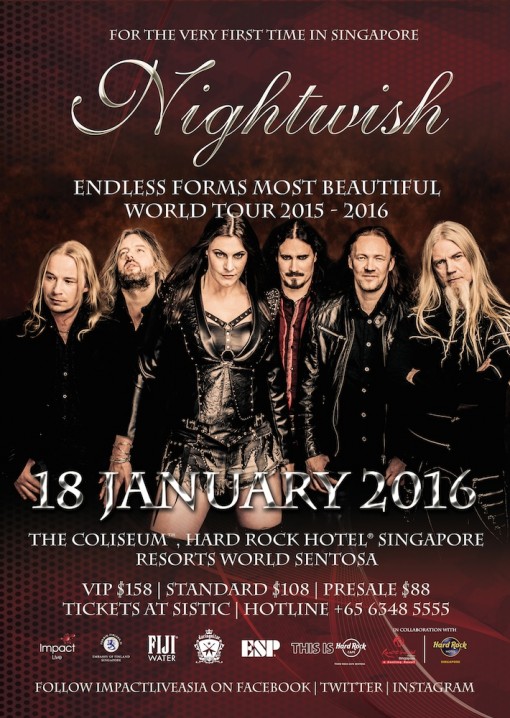 Nightwish – Endless Forms Most Beatiful World Tour 2015 – 2016
Nightwish is a symphonic power metal band from Kitee, Finland. The band was formed in 1996 by lead songwriter and keyboardist Tuomas Holopainen, guitarist Emppu Vuorinen, and lead singer Tarja Turunen. The band soon picked up drummer Jukka Nevalainen, and then bassist Sami Vänskä after the release of its debut album, Angels Fall First (1997). In 2002, Vänskä was replaced by Marco Hietala, who also took over the male vocalist role previously filled by Holopainen and guest singers.
Although Nightwish have been prominent in their home country since Angels Fall First, they did not achieve worldwide fame until the release of the albums Oceanborn (1998), Wishmaster (2000) and Century Child (2002). Their 2004 album, Once, has sold more than one million copies and was the band's breakthrough in the United States. Their biggest US hit single, "Wish I Had An Angel" (2004), received MTV airplay and was included on three US film soundtracks to promote their North American tour. The band produced three more singles and two music videos for Once, as well as a re-recording of "Sleeping Sun" for the "best of" compilation album, Highest Hopes (2005).
In September 2007, the band released their sixth album, Dark Passion Play, which sold almost 2 million copies. The album's lead single, "Amaranth", became one of Nightwish's most successful in Europe. The band released an EP/live album, Made in Hong Kong (And in Various Other Places), in March 2009 as a CD/DVD, and their seventh studio album, Imaginaerum, was released globally on various days in late 2011/early 2012.
On October 1, 2012, Nightwish announced that they had parted ways with Olzon and would be finishing the current tour with ReVamp and former After Forever vocalist Floor Jansen. In October 2013, Nightwish made Jansen and longtime session uillean pipes player Troy Donockley permanent members of the band making Nightwish official a sextet.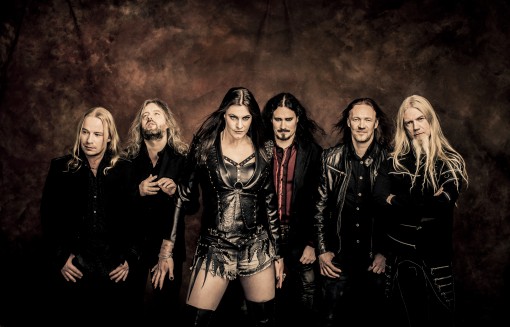 Nightwish has released 8 full-length studio albums with Endless Forms Most Beautiful being the latest released in early 2015. Nightwish is the most successful Finnish band worldwide, selling more than 8 million records and receiving more than 60 gold and platinum awards, having released five Number 1 albums and thirteen Number 1 singles
This will be Nightwish DEBUT headlining show in Singapore and it will be the ONLY show in Southeast Asia after their Australia leg.
Show Info
Date: Monday, 18th January 2016
Venue: The Coliseum, Hard Rock Hotel Singapore, Resorts World Sentosa
Showtime: 8.00pm
Doors Open: 7.00pm
Ticketing Info
Tickets available now at http://www.sistic.com.sg/events/night0116 & all Sistic counters
Hotline: + 65 63465555
Sistic overseas authorized agent
Malaysia (counters only)
Holiday Tours & Travel Sdn Bhd (Kuala Lumpur, Malaysia) , Holiday Tours & Travel Sdn Bhd (Subang Jaya, Malaysia), JY Travel Sdn Bhd (Johor Bahru, Malaysia), Sin Chung Tours Sdn Bhd (Johor Bahru, Malaysia)
Indonesia (online and counters)
Online:
http://www.kiostix.com/tuk_kiostixevt/nightwish-endless-forms-most-beautiful-world-tour-2015-2016/
Hotline: +6221-717-93750
Counters:
KiOSTiX @ Cibubur Junction, KiOSTiX @ fX Sudirman, KiOSTiX @ Lippo Mall Puri, KiOSTiX @ Mal Artha Gading, KiOSTiX @ Mall Alam Sutera
Ticket Price:-
VIP (incl Meet & Greet): S$158 SOLDOUT
Presale: S$88 (until end Oct or until soldout) SOLDOUT
Standard: S$108
At Door: S$128
All prices exclusive Sisitc ticketing fees.
All tickets are free standing
On sale: 1st October 2015 at 10am
Other Ticketing Outlets: tbc (only for GA tickets) Please check our Facebook for more details)
Follow Impact Live on social media for latest concert updates and free goodies!
Facebook: ImpactLiveAsia
Twitter: @ImpactLiveAsia
Instagram: ImpactLiveAsia
Proudly presented by Impact Live.