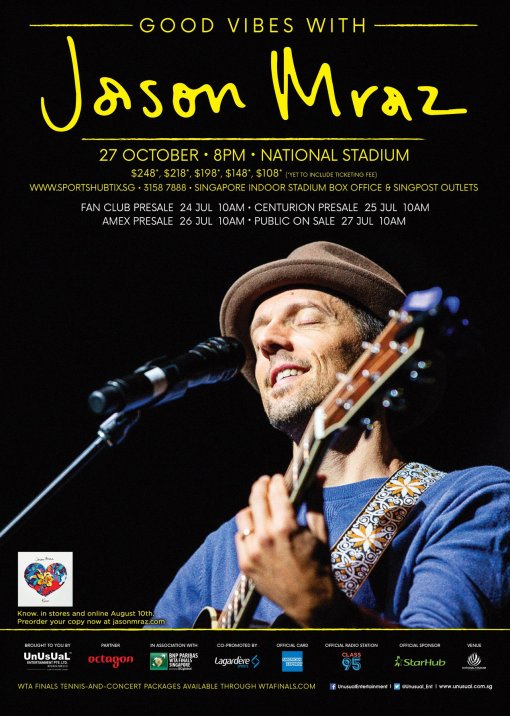 Multiple GRAMMY® Award winner, platinum selling artiste Jason Mraz will perform at the National Stadium on 27 October 2018. This concert, held in conjunction with the final edition of the BNP Paribas WTA Finals Singapore presented by SC Global, will be Mraz's only stop in Asia this year.
Tickets to "Good Vibes with Jason Mraz" are priced at $248*, $218*, $198*, $148*, $108* (*excludes $4 booking fee) and will be available for sale from 27 July, 10am onwards.
To book, call 3158 7888 or log onto www.sportshubtix.sg. Tickets are also available for purchase at the Singapore Indoor Stadium Box Office and all Singpost outlets islandwide. For more information, visit www.unusual.com.sg.
The concert is the highlight of a week of major entertainment in Singapore around the WTA Finals, with the city serving up smashing action from the greatest stars in women's tennis at the Singapore Sports Hub from October 21-28, coupled with various exciting lifestyle and entertainment events around town. Special tennis-and-concert ticket bundles of up to 15% off and upgrades for existing WTA Finals ticket buyers are available for a one-day only presale on 24 July, exclusively at WTAFinals.com.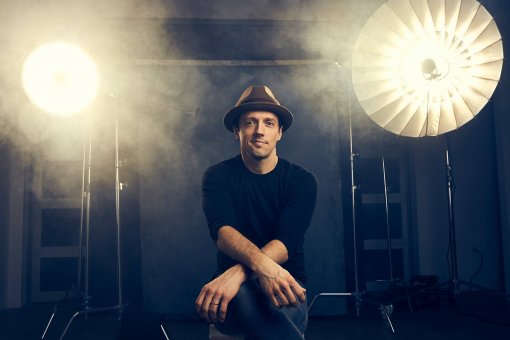 A chart-topping headliner, Jason Mraz got his start at coffeehouses in San Diego back in 2000. In 2002, he released his Platinum-certified debut album, 'Waiting for My Rocket to Come', which contained the hit single "The Remedy (I Won't Worry)". The release of his sophomore album, 'Mr. A-Z', in 2005, saw Mraz achieving major commercial success and the album peaked at number 5 on the Billboard 200. In 2008, Mraz released his third album, 'We Sing. We Dance. We Steal Things' which debuted at number 3 on the Billboard 200 and sold triple platinum in part to the hit "I'm Yours". The song peaked at number 6 on the Billboard Hot 100, giving Mraz his first top ten single and spent a then-record 76 weeks on the Hot 100. His fourth album, 'Love Is a Four Letter Word', peaked at number 2 on the Billboard 200, his highest-charting album to date.
Mraz has earned numerous diamond and platinum certifications for his various releases, including his classic singles "I Won't Give Up," "Lucky," and the record-breaking "I'm Yours." He has won two Grammy Awards, received the prestigious Songwriter Hall of Fame Hal David Starlight Award, and sold out fabled venues such as The Hollywood Bowl, Madison Square Garden, and London's O2 Arena.
It is a testament to the generosity of spirit in Mraz's music that so many people have chosen his songs as the soundtrack to major moments in their lives, and new memories are certain to be made with the songs on his upcoming sixth album, Know. The album serves as a follow-up to the 2014 LP 'YES!', and is Mraz's first full-length studio recording in over four years.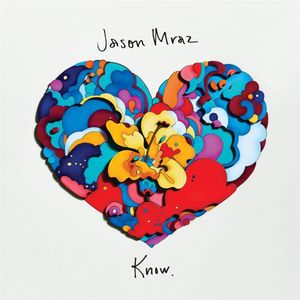 Know. is a collection of letters, introduced through its first single, "Have It All" which was originally conceived after Mraz received and translated a blessing from a Buddhist monk during a moving visit to Myanmar in 2012. It stands out as a song with a hopeful message to help him and others heal and move forward. The current smash hit is ascending the Top 15 at Hot AC radio outlets US-wide and has more than 4.5 million streams in the U.S. alone.
Other notable songs include the recently released "Unlonely", one of Mraz's favourite track from the album which hearkens back to some of his early, beloved songs. "Making It Up", a collaboration with his songwriter friend Bob Schneider about how anything is possible and "Better With You," which was inspired by his marriage.
Know. is produced by Andrew Wells, who brings an organic and groovy feel to the album's classic, acoustic rock sound.
While writing the album, Mraz took a break to star in Sara Bareilles' Broadway show Waitress. He has also continued his philanthropy, including the Jason Mraz Foundation, which aims to uplift humanity through arts education and the advancement of equality, and serving as a sponsor and program advisor for the School of the Performing Arts (SPARC) in his home state of Virginia.
To further herald Know. out on 10 August, Mraz will embark on a hugely anticipated North America summer tour "GOOD VIBES". He will bring this one night only show to Singapore and perform for the first time ever at the National Stadium. Get ready for his new songs such as "Have It All", "Unlonely" and classic hits like "I'm Yours", "I Won't Give Up", "Lucky" and more.
"Good Vibes with Jason Mraz" is proudly brought to you by Unusual Entertainment and partnered with Octagon, in association with BNP Paribas WTA Finals Singapore presented by SC Global and co-promoted by Lagardère Sports.
Concert Details
Good Vibes with Jason Mraz
Date: 27 October 2018, Saturday
Time: 8PM
Venue: National Stadium
Ticket Price: $248*, $218*, $198*, $148*, $108*
(*yet to include $4 booking fee)
Ticketing Hotline: 3158 7888 or log onto www.sportshubtix.sg
Tickets also available at the Singapore Indoor Stadium Box Office and all Singpost outlets island wide.
WTA Finals tennis-and-concert packages available through WTAFinals.com; existing WTA Finals ticket holders can also purchase concert tickets at 10% off (limited availability).