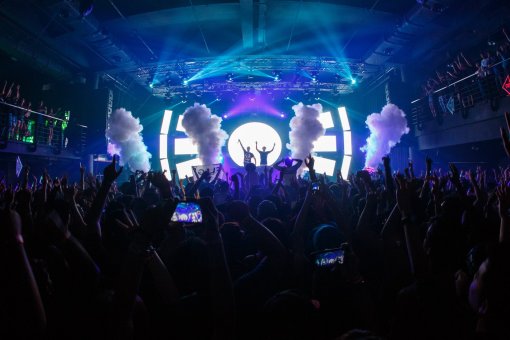 photos by All is Amazing!
Dutch duo DJ, W&W made their return to Malaysia this May. Well known in creating Big Room music, the boys, Willem van Hanegem and Wardt van der Harst actually started with Trance music. They owned a label called Mainstage Music 5 years after the duo is formed and that is when they started producing Big Room House and Progressive House music. Some of their biggest hit like "Bigfoot", "Arcade" and "Waves" have been supported and played in international festivals by DJs such as Hardwell and Dimitri Vegas & Like Mike.
Currently placing no. 13 in the DJ Mag Top 100 list, W&W has made a comeback with the formation called NWYR (pronounced as New Year) this year. The responses for NWYR debut was overwhelming during Ultra Miami 2017 as crowd was super hyped up with the new music and style NWYR has played. Special thanks to Heineken Malaysia for this exclusive interview with them, we are glad to have the chance to find out more about NWYR during their show in KL Live, Kuala Lumpur.
Concertkaki: Hi Guys. Welcome back to Malaysia!
W&W: Hi.
Concertkaki: We've been following you on Instagram and how's Japan? How's the show? Is the crowd good?
W&W: It's amazing! We love Japan. Just like here, they (the crowd) bring the signs, they know all the songs and lyrics, they scream along to every melody. It's really an amazing crowd.
Concertkaki: We have heard about NWYR recently at Ultra Miami. Can you tell us more about it? What is the inspiration behind it?
W&W: It's a side project we started. Basically last year we were watching A State of Trance stage and you know, we played the main stage few years in a row now, let's just play this (Trance) next year. But we can't play this, this is W&W, it's doesn't really match, no. So okay, let's start something new.
Concertkaki: Yea. It was totally different genre from what you guys usually play.
W&W: Yes, and it was scary because we started this new project with only new music. We never expect the outcome would be like this; there was so many people asking for it. It was stressful, to be honest, in the 2 – 3 months to make all the songs.
Concertkaki: You know we weren't there (Ultra Miami) to catch the first NWYR set but we were all hyper by at home already with the all new tracks, haha.
Willem: Because it's all new music! You know, it's always the set that you already know, or usually listen to. But now, you have no clue of what you are listening to, this is all new, that we just made in the past few months.
Wardt: What we played at W&W is like, okay we know that this part is gonna go out for sure and this part is also gonna go out for sure. With the NWYR set, it was really just a wild guess. We have no idea what's gonna happen.
Concertkaki: So we will be getting a little bit of NWYR later?
W&W: Ya! I think close to the end, you will get like a 3 – 4 tracks and many of the new ones.
Concertkaki: That's great! Among all the tracks from W&W, which is your favourite and why?
Willem: Well, it changes. You know sometimes we listened to the old song and was thinking actually we did pretty well for that one… But I still like Lift Off!; I like The Code, Big Foot and Rave After Rave lately, it's been pretty old but the crowd keeps on going like crazy.
Wardt: I still like Arcade, Invasion and A Stage of Trance anthem back in the days. And actually there are a few upcoming ones, those are my most favourite ones, to be honest! Nobody has heard of them yet haha.
Concertkaki: Do you play different live sets according to the stages or crowd? This is actually a question from a fan.
W&W: Definitely! Of course we have our playlist of songs like today we might play 40 or more and we have 60-70 (tracks) in there. And it depends. For instance, if they react to Trance, then we play more Trance; if they react to Big Room or if they want vocals. So usually we will have different options (of playlists), and we try to switch more.
Concertkaki: Any words for your fans from Malaysia this time?
W&W: Oh we love them and their support. We always see them from social media. Even today we posted that we are flying and so many people react to that. It's been almost 2 years since we came here. I think the last time we performed in a club, Zouk? It's been too long since we came here.
Concertkaki: Last but not least, what should we expect from W&W next?
W&W: We are actually working on 3 new W&W singles. There are going to be in our sets in few months but we are still working on them. We hope to launch one before the summer. We also have a new NWYR track coming out in two weeks and we gonna announce the new set that we are playing for NWYR. It's gonna be second show with a lot of new music. So actually.. There are a lot of stuff coming up, more than ever before.
Concertkaki: That's exciting to hear! Thank you so much for this interview and we look forward to the new tracks from W&W.
W&W: Thank you.