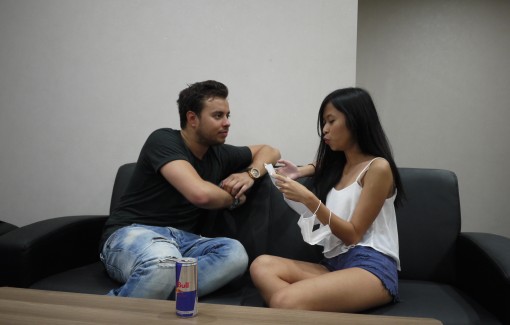 Quinten van den Berg better known by his stage name Quintino, is a Dutch DJ and producer. Discovered by Laidback Luke on the age of 18 years old, Quintino fell in love with electronic dance music and has been making music ever since then. It didn't take him long to place his mark on electronic dance music as a DJ and producer.
Quintino has worked with many big names such as Tiësto and Afrojack. He is also signed to the world's largest record label Spinnin' Records.
One of Quintino's remarkable piece was definitely 'Epic' in the year 2011 that went straight to platinum and reached almost 17 million views on YouTube.
Other than his successful achievements, Quintino is also well known for being a humble DJ with amazing energy on stage.
We managed to catch up with Quintino during Ultra Korea 2015 last weekend.
Concertkaki: Hello Quintino! How are you? We heard that you just came back from Ultra Thailand, Bangkok. How was it?
Quintino: Well, it's hard to explain because it was simply amazing! There was a really huge crowd, which I didn't expect, as it was a route to Ultra, so I was expecting it to be a little smaller. It was filled with a lot of people and there was just so much energy. It was the best feeling in the world to see so many happy people.
Concertkaki: So we heard that your new track 'Aftermath', with Sandro Silva, will be releasing on June 19th 2015. Can you tell us more about what to expect from this new track?
Quintino: Yes! We made 'Epic' four years ago, which turned out a huge success. So recently we decided to stop all our solo stuff for a moment and return to that magic collab again. The result was 'Aftermath', basically the follow up to 'Epic'.
Concertkaki: How was it like working with Sandro Silva?
Quintino: He is very cool! He is a good friend of mine, we worked on a lot of stuff together back in the studio. We created so many tracks and it was fun! We were really happy working together. He is great.
Concertkaki: What are you favourite tracks to play live?
Quintino: Hmm. I really like the new track from Zedd & Botnek, 'Bumble Bee'. It's really good. I also did some remixes for Nervo. Man, this is really hard to choose, there are so many tracks that I love to play! But if I had to choose one, vocal wise, it will definitely be 'Pompeii' from Bastille. It gives me such a happy vibe every time I play that song. It makes me really happy and I always feel like I'm in a dream whenever I play that song.
Concertkaki: We know that you've been discovered by Laidback Luke at the age of 18 and you started DJ and being a producer ever since. Will there be any upcoming collaboration with Laidback Luke somewhere in the future?
Quintino: Well, we've talked about it but nothing has come up yet. But in the
future, there is definitely something coming up from the both of us.
Concertkaki: What will be the future like for Quintino?
Quintino: For me it is to achieve my dreams and always live for my work, and not work to live. It is very important to be able to see the world and enjoy it at the same time. Because I do what I like, and I love travelling as well, and I just wanna grow bigger and better. Other than that, one of the important things for me is to make people smile with my music. If I see people smile, it makes me smile.
Whatever I do, wherever I go and whenever I feel tired, I will just think about the people I played my music to and to think about the good times they are having. That makes me happy.