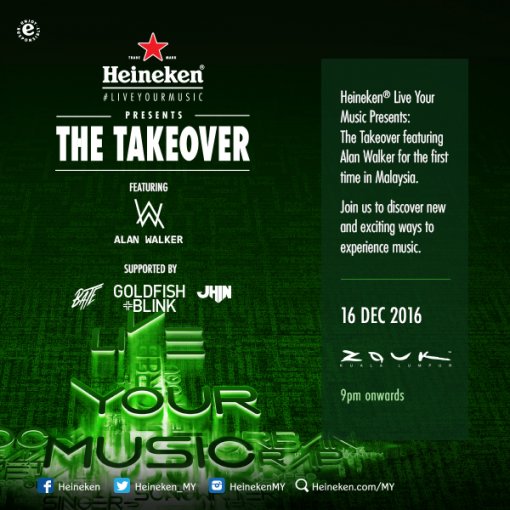 This December, Heineken® goes nationwide as Heineken® Live Your Music Presents: The Takeover featuring Alan Walker opens in Penang (14 Dec), Johor Bahru (15 Dec) and Kuala Lumpur (16 Dec). The Takeover is the latest addition to Live Your Music designed to intensify and enrich the way our music fans experience and interact with music.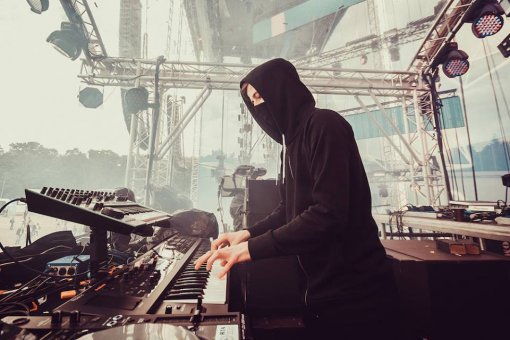 Live Your Music Presents: The Takeover is about creating new music encounters that integrate into every part of your day. It's an experience that will take over the conventional way of consuming music and injecting it with a mix of exclusive insights from music insiders, unexpected pop-up events as well as innovative and interactive productions with The Takeover club shows featuring Alan Walker.
The Takeover journey will culminate with the ultimate music life hack: a Heineken-curated, all-expense paid trip for two to a music festival in the USA.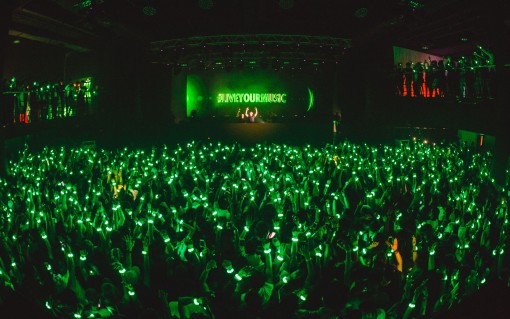 "Live Your Music Presents: The Takeover is the next step in Heineken®'s journey to forge new and unique musical connections. Whether it's high tech or low tech, whether they are, at home, at work or at a club with friends, Heineken® wants to turn every interaction with music into a discovery," said Loh Ee Lin, Marketing Manager of Heineken® Malaysia
Often, those discoveries begin when we're alone. At home or with earbuds plugged in, we are in control, spinning through playlists, sharing with our friends as we absorb their influences, adding them as new discoveries. At parties and live shows, the DJs and bands feed on our energy, adding unexpected twists to the tunes we know and introducing the tracks that will become future favourites.
In other situations – at work and in stores, at cafes and in bars – we lose that sense of control and participation. Music becomes a stream of background noise designed to make us to eat faster, shop more slowly or work harder. It's intended to influence, rather than engage. Heineken® believes that to live your music, it has to engage; that music should always be an experience.
Alan Walker is a young Norwegian producer and DJ who has rapidly gone from outsider status to the top of the charts with his worldwide club and crossover hit, 'Faded', and is poised to release official remixes for megastars like Sia.
The Takeover three-part series in JB, Penang and KL will see the venues undergo a radical transformation. The events will see the know-how we have developed in bringing large scale music events to fans around Malaysia being adapted to create an immersive, high-production experience that is unique to Heineken®. From our signature Green Moments, to the elaborate costumes and routines of the stage artists, to the exclusive crowd- engineered interactivity, Live Your Music Presents: The Takeover looks set to be the shareable moment of the year.
For two lucky consumers, The Takeover journey doesn't end there. For them, Heineken® is offering to transform their lives with the ultimate music fan experience; an amazing trip to a music festival in USA. Designed from the ground-up, this is the ultimate music insider trip, an incredible chance to gain access to the exclusive and unforgettable privileges that come with entry into the world of Heineken®. The promotion, which takes place at select Heineken® outlets nationwide in the month of December, also gives consumers the chance to receive exclusive Live Your Music memorabilia.
#LiveYourMusic
The Takeover is an integral addition to Heineken Live Your Music. Inspired by its followers, Live Your Music is a global movement that sees music from the fans' perspective. It uses the collective passion for experiencing music as its foundation to craft shareable and memorable moments. Since it debuted in Malaysia in January, Live Your Music has engaged fans across multiple events, ranging from DVBBS, Dash Berlin, OBSCR Cup to Good Vibes Festival.
Details:
For ticket reservations and admission requirements, please contact the following clubs directly.
Date: 14 December 2016
Doors Open: 7:00 PM
Venue: VAC, 4, Beach St, Georgetown, 10200 George Town, Penang.
Date: 15 December 2016
Doors Open: 7:00 PM
Venue: Triple X Club, Holiday Plaza, Jalan Dato Sulaiman, 80250 Johor Bahru.
Date: 16 December 2016
Doors Open: 9:00 PM
Venue: Main Room, Zouk Club, 436 Jalan Tun Razak 50400 Kuala Lumpur.
Admission information is available from the respective clubs and is subject to each club's rules and regulations.
For more information, follow Heineken on Instagram @HeinekenMY or Facebook www.facebook.com/Heineken or log on
to www.heineken.com/my