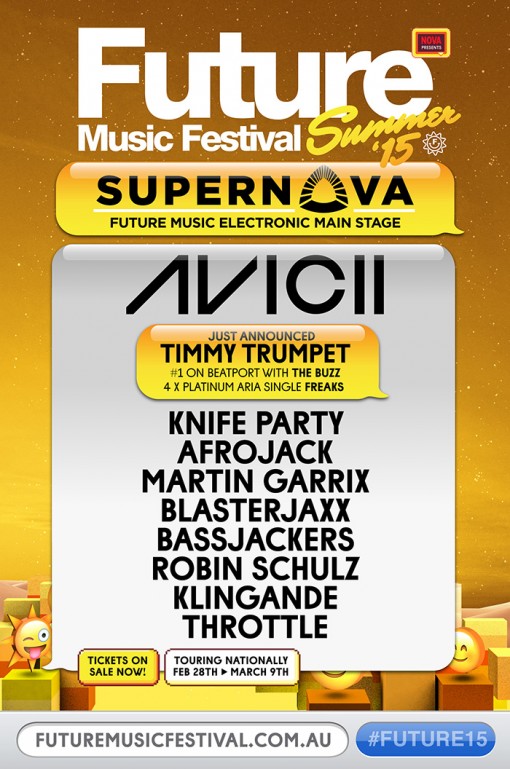 It's been a big week of announcements at Future HQ, with the unveiling of two stage rundowns, brand new singles and line-up additions. Now, it's time to reveal all the details of our most spectacular production set-up to date: introducing Supernova Stage, a mind-blowing, custom-built EDM experience headlined by the one and only biggest DJ on the planet, Avicii!
Forget your expectations about festival production. We've commissioned world-leading production designer James Klein to design a brand new, bespoke EDM stage for Future Music Festival that will defy expectations! The former Bondi talent (now based in the US) designed Miami's monster Ultra Music Main Stage for their 15th anniversary last year, and has been commissioned to bring his high-level 3D computer design, state-of-the-art audio technology and mind-blowing lighting and visual effects to Future in a production that'll knock your socks off!
"In the lead up to Future we're working closely with the artists to design and implement loads of killer special effects and huge moments for each performance," reveals Klein. "I don't want to ruin the surprise, but you can expect CO2 jets, integrated video, multiple flame systems, synchronized pyrotechnics and tons of
confetti and streamers! Designing a custom stage like the one you'll see at Future Music Festival takes lots of planning. We started working on the initial design around August 2014 and have been turning the creative concept into reality since October."
With a whopping 19 million followers on Facebook, Avicii is the most Shazamed artist of 2014 – he's so huge Sweden put him on a stamp. With a brand new remix of 'The Nights' now on Spotify (listen here)
 Avicii returns to our shores for his first live shows in several months to headline Future with the biggest, most dynamic stage production to date. This is going to be huge!
Not content to bring you over 200 Aussie artists already, now we're bringing you one of the hottest local stars of 2014 – a man who had the #9 highest selling single in Australia's pop charts last year. We're talking multi-platinum talent Timmy Trumpet! Ranked #2 DJ in Australia (inthemix), his massive track 'Freaks' has sold over 300,000 copies to date, and is currently on airwaves both here and abroad. Having recently returned from a 46 show tour of the US, Timmy's back at home and bringing his signature live trumpet-meets-EDM set to the main stage of Future.
Who else will be conquering the huge Future Music stage this summer? Perth-via-London legends Knife Party will perform their biggest shows in Australia to date, bringing their chart-topping debut album Abandon Ship direct to you. EDM heavyweight Afrojack – the sixth highest grossing artist in the USA in 2014, no less – will be there, banging out his debut album Forget The World. So will Dutch 18-year-old sensation Martin Garrix, who has been busy documenting his shows across the globe (watch them here)
Add to that Dutch electro-house masters Blasterjaxx; German Grammy nominee and 'Prayer in C' house producer Robin Schulz; the lads behind monster tune 'Crackin'', Bassjackers, as well as Aussie DJ on the rise Throttle, performing in all cities.
Stay tuned for the final stage announcement tomorrow + two new international acts!
SUPERNOVA STAGE
Avicii
Knife Party
Afrojack
Martin Garrix
Blasterjaxx
Bassjackers
Timmy Trumpet
Robin Schulz
Klingande
Throttle
FUTURE SUMMER '15:
Sat 28 Feb Royal Randwick Racecourse, Sydney (18+)
Sun 1 Mar HBF Arena, Joondalup (Perth) (18+)
Sat 7 Mar Brisbane Showgrounds, Brisbane (18+)
Sun 8 Mar Flemington Racecourse, Melbourne (18+)
Mon 9 Mar Adelaide Showground, Adelaide (15+)
Tickets on sale now via www.futuremusicfestival.com.au
www.futuremusicfestival.com.au  | www.facebook.com/futuremusicfestival  | Twitter @futureofficial