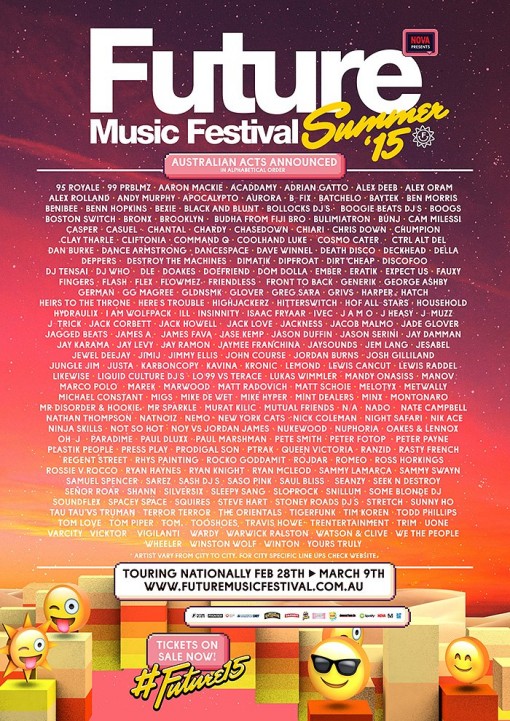 Things are heating up for Australia's biggest national touring event, Future Music Festival, with less than 50 days to go 'til our big kick-off!
Get pumped friends, 'cause we've got super huge announcements to reveal each day this week: brand new line-up additions, including a massive, multi-platinum, award-winning act that'll have you jumping for joy! There's more internationals to come, while we'll also give you the details of what to expect from our brand new bespoke stages.
First up: in today's new we're thrilled to announce more than 200 Aussies are joining our line-up nationally! From legendary dance figures and promising protégés (John Course, Some Blonde DJ & Nemo) to outta control club kings (J-Trick, Kronic & Ember) and the very best in hot new talent (Hatch, Señor Roar, Jay Karama + Baytek), there's something for everyone in each city. Just take a look at these happpening stages: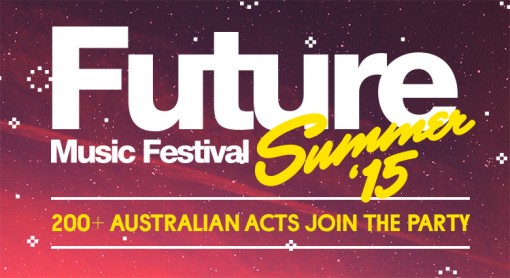 SYDNEY:
Foam-a-rama (presented by Soapbox Artists): Kronic, Destroy The Machines, Acaddamy, Terace, NatNoiz, Jesabel, Dave Winnel, Ben Morris, Friendless, JaySounds, Baytek, Eratik, Bronx vs Sleepy Sang.
Starfuckers: J-Trick, Ember, Tom Piper, Mr Disorder & Hookie, Trentertainment, Regent Street, snilluM, Likewise, HOF All-Stars.
Ice Cream Van: Fingers, GG Magree, Aurora, Deckhead, Mike Hyper, Chumpion, Hitterswitch, LeMond, Stoney Roads DJs, Heirs To The Throne vs Harper, DLE, Here's Trouble, Watson & Clive.
Fruttare (presented by JL, One Hit & Likewise): Jay Karama, Front To Back, Highjackerz, Nukewood, Oakes & Lennox, I Am Wolkpack, Wheeler, Jagged Beatz, Ryan Knight, Tau Tauvs Truman, Rossie v Rocco, Mint Dealers, Discofool.
PERTH:
FOAM-A-RAMA (presented by EMAS)
IVEC, Night Safari, B-Fix, Jaymee Franchina, Jason Duffin, SHANN, Jackness, CHIARI, Jewel Deejay, Búnj, NOT SO HOT, Mynx and Fauxy
FRUTTARE (presented by Death Disco)
Death Disco, Black and Blunt, COMMAND Q, Melotyx, BUL!M!ATRON, GeRmAn, Tom Love, Houshed, Green George, JaFunk, Ozradecks, Vicktor, Samuel Spencer, Liquid Culture DJs and Mike De Wet
BRISBANE:
Foam-A-Rama stage: Ninja Skils, Ranzid, Insinnity, CTRL ATL DEL, Yours Truly, Flash, Benibee, Tooshoes vs Migs, Vigilnti, Queen Victoria, Matt Schoie, Alex Oram.
Fruttare stage: Mandy Onassis, Batchelo, J-MUZZ, GLDSMK, Dan Burke, Tom, Chantel, Coolhand Luke, Stretch vs Grivs, Cliftonia, 95 Royale vs Casper.
The MET: Noy vs Jordan James, Sloprock, We The People, Pete Smith, Jordan Burns, Varcity, Oh-J vs Della, Mr Sparkle, Dipfrost vs Seanzy, Rocko Goddamit vs Sunny Ho.
MELBOURNE:
Foam-a-rama stage: Andy Murphy, Apocalypto, Boogs, Chardy, Generik, J Heasy v James Fava, Jason Serini, John Course, Nate Campbell (Ultra Music Festival), Ross Horkings, Some Blonde DJ and Spacey Space
Fruttare stage: Alex Deeb vs Deppers, Budha from Fiji Bro (Fiji), Jay Levy, Josh Gilliland, Metwally, Paradime, Peter Fotop v Montonaro, Rojdar, Ryan Haynes v Adrian Gatto, Sammy La Marca v Clay Tharle, Sammy Swayn v Cam Milessi and Warwick Ralston v Saso Pink.
Lucky Coq: 99 PRBLMZ, Boogie Beats DJs, DJ Who v Tigerfunk, Jay Ramon v Greg Sara, Marco Polo v Flowmez (NYC), Matt Radovich v Lewis Cancut, Nick Coleman v Doakes, New York Cats, Rasty French v Travis Howe, Romeo v Wardy, Silversix and Uone.
Ice Cream Van Stage: Winston Wolf, Jump Boyz v Prodigal Son, Lewis Waddel v Alex Rolland, Jay Damman v J A M O, Afrojackhowell, Tim Koren, Rhys Painting v Aaron Mackie, Jade Glover, PTRAK, Chasedown, The Orientals, DJ Tensai, DJ Bexie
ADELAIDE:
Foam-a-rama stage (presented by Hype Records): Steve Hart, Paul Marshman,  Plastik People, Dance Armstrong, Nik Ace, Marek, Expect Us, Trim, Karboncopy, Dancespace vs Marwood, Michael Constant, Todd Phillips vs Jed Castley
Fruttare stage: Jem Lang, George Ashby, Soundflex, Terror Terror, Jase Kemp, Chris Down, Sarez, Ryan McLeod, Manov, Winton, Jack Corbett and iLL
Stay tuned for more big news tomorrow and all this week!
FUTURE SUMMER '15
Drake | Avicii | The Prodigy
Afrojack | Martin Garrix | Knife Party
Nero | Example | Die Antwoord
Sigma | 2 Chainz | Kiesza | Tchami | Darude
Blasterjaxx | Robin Schulz | Klingande
Gorgon City | Carnage | Bassjackers
Yellow Claw | Throttle
Cocoon presents Sven Väth
Art Department | Apollonia : Shonky
Dan Ghenacia | Dyed Soundorom
+ more to be announced
*line-up may vary from city to city – check website for full info.
FUTURE SUMMER '15:
Sat 28 Feb Royal Randwick Racecourse, Sydney (18+)
Sun 1 Mar HBF Arena, Joondalup (Perth) (18+)
Sat 7 Mar Brisbane Showgrounds, Brisbane (18+)
Sun 8 Mar Flemington Racecourse, Melbourne (18+)
Mon 9 Mar Adelaide Showground, Adelaide (15+)