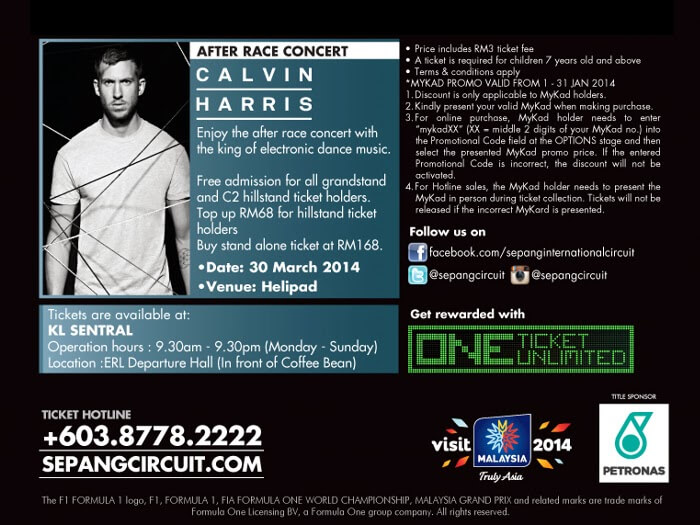 The upcoming 2014 Formula 1 Petronas Malaysia Grand Prix™ promoted under the banner "Sepang Comes Alive" is already living up to its tagline as internationally acclaimed DJ Calvin Harris is set to perform as part of the after race concert on the 30th of March 2014 at the Sepang International Circuit (SIC) Helipad.
The Scottish-born singer, songwriter, and producer, dubbed as the King of Electronic Dance Music was also recently announced as the 2013 Forbes' Electronic Cash Kings List and currently holds the Guinness World Record for the most top ten hits from a single album in the UK, a record previously held by The King of Pop himself, Michael Jackson. The double-platinum-selling Harris sprang to prominence with his debut album I Created Disco in 2007 and has topped the charts around the world with two number one albums to date. With a string of number one singles, his most recent album 18 Months features chart toppers such as Feel So Close, his collaboration with Rihanna on We Found Love, and Let's Go, which features Ne-Yo. He is set to enthrall fans with his brand of music that has captivated audiences around the world.
"Each year we try to elevate the excitement and entertainment value of the Malaysian Grand Prix and bringing Calvin Harris for the post-race concert is going to be a big hit with the local and international crowd as the perfect finale of our celebration," said SIC's CEO, Dato' Razlan Razali.
"We are currently working with the relevant ministries to feature DJ Calvin Harris as this is his debut performance in Malaysia and exclusive to South East Asia for the Malaysian F1", he added.
The After Race Concert is accessible to all grandstand and C2 hillstand tickets holders. What makes it more exciting, beginning January 1, SIC has announced 40% discount to all MyKad holders for the 2014 Formula 1 Petronas Malaysia Grand Prix™ tickets.
"Recognising the rising cost of living in Malaysia, people would have set different priorities in spending. Therefore, we have always tried to encourage Malaysians to come and enjoy their home race, thus being the home of Malaysian motorsports, we felt that it is important for us to provide such promotions to allow the locals to have a chance to experience and witness the world-class F1 race," said Dato' Razlan further.
Tickets are now on sale and can also be purchased at the KL Sentral ERL Departure Hall (in front of Coffee Bean) every day from 9.30am until 9.30pm. There will be other ticket sales points, which SIC will announce from time to time, as the race draws near. The promotion will end 31st January 2014.
Targeting 125,000 spectators, with 30% expected to be foreigners, the event is seen as the perfect platform to promote the Visit Malaysia Year (VMY) 2014. Fans will not just get to experience the event LIVE, but their ticket unleashes more than just the thrill of the race. With the return of ONE TICKET UNLIMITED (1TU), a loyalty programme introduced by SIC will serve as the perfect getaway pass for race fans to discover a myriad of activities, happenings and travel opportunities. Apart from being a passport for additional discounts at the 2014 Formula 1 Petronas Malaysia Grand Prix™, 1TU also provides ticket holders a host of other privileges, offering an exhilarating affair of shopping, partying, and world class racing action and traveling which further enhances the whole experience of VMY 2014.