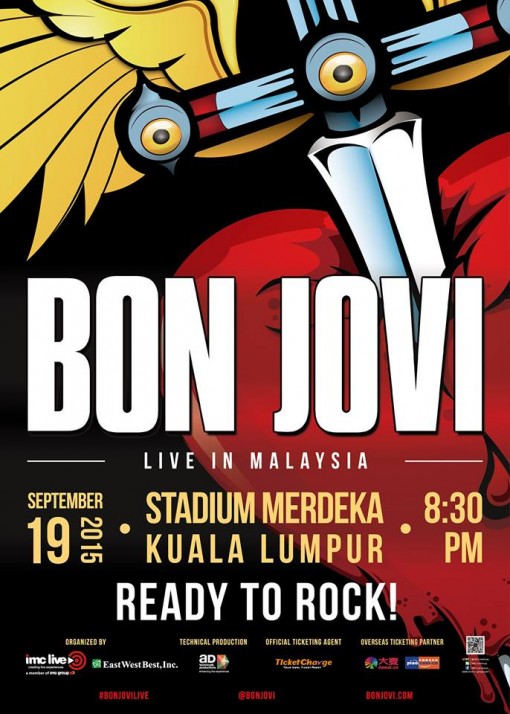 We've toured around the world since 1995 and are excited to reunite
with our Malaysian fans again! See you on September 19th! -Jon Bon Jovi
One of the most important bands in the history of rock and popular music returns to Kuala Lumpur. With the most spectacular tour of this season, Bon Jovi will perform at Stadium Merdeka, Kuala Lumpur, Saturday, 19 September 2015 at 8.30pm. Tickets go on sale to the general public on June 10th, 2015 from 10am at www.ticketcharge.com.my.
Bon Jovi carries a history of success for over 30 years. The band became an icon of American rock music, and will shake Kuala Lumpur with this spectacular show. Fans will be treated to an unforgettable night of Bon Jovi's huge arsenal of worldwide hits, including 'Livin' On A Prayer', 'You Give Love A Bad Name', 'It's My Life', 'Have A Nice Day, the Grammy winning 'Who Says You Can't Go Home', and many more.
With the iconic frontman Jon Bon Jovi, 130 million records sold, performing over 2,900 concerts, the endless list of hits, the fact of having one of the best singers of popular music, and the strength of a band that won a place among the greatest through their excellence, all come together to make this a concert experience not to miss.
BON JOVI BY NUMBERS:
130,000,000+ Albums Bon Jovi has sold globally
37,000,000+ Fans who have seen a Bon Jovi concert
2,600,000+ Tickets sold in 2013
2,900 Shows Bon Jovi has performed worldwide
900 Cups of coffee made on tour daily
425 Meals prepared and served to the crew daily
100+ Local crew hired daily
78 Fulltime touring crew members
55+ Number of countries Bon Jovi has performed in
7 Guitars Jon uses on tour including 3 electric and 4 acoustic
4 Number of drumsticks Tico Torres breaks per show
4 Number of keyboards and pianos David Bryan has on stage
3 Number of times Bon Jovi has been named #1 touring act in the
world in the last 5 years
BON JOVI, LIVE IN MALAYSIA:
Date: 19th September 2015
Time: 8.30pm
Venue: Stadium Merdeka, Kuala Lumpur
Ticket Prices: RM888, RM628, RM488, RM388, RM288, RM168 (ticket prices exclude RM4 processing fee)
Ticketing: www.ticketcharge.com.my or Hotline +603 9222 8811
For more information on all things Bon Jovi, visit www.BonJovi.com.