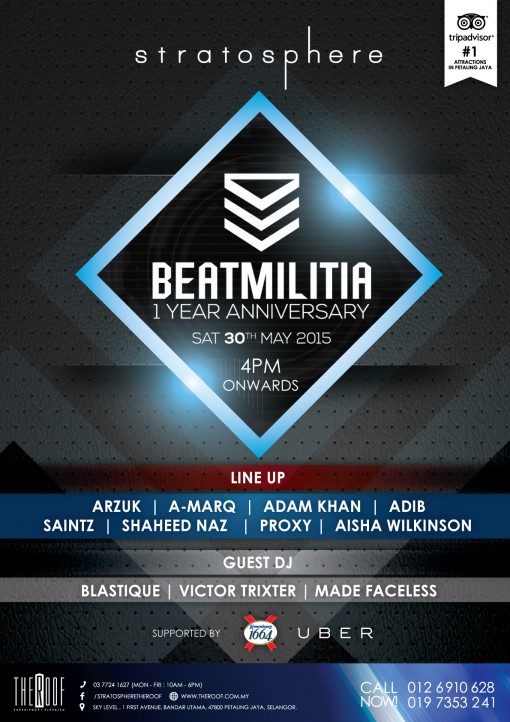 If you are looking to chill out on a Saturday evening over a classy
Kronenbourg 1664 beer and compliment that with a breathtaking view, you don't need to look further.
Stratosphere is proud to present SATURDAY SUNDOWN on 30 May 2015 in conjunction with BEATMILITIA'S first anniversary party.
BEATMILITIA is an independent movement in Klang Valley aimed to promote talented local DJs who will be featured at this party. Expect sounds from a healthy line up of 11 DJs including ARZUK | SHAHEED NAZ | A-MARQ | ADAM KHAN | ADIB | AISHA WILKINSON | SAINTZ | PROXY and
special appearance including VICTOR TRIXTER | MADE FACELESS | BLASTIQUE.
If you are a hard core techno and house fan, this is not to be missed. Grab the chance to be treated like a VIP with FREE entry and FREEFLOW of drinks and BBQ spread when you register at www.beatmilitia.com/vipregistration. Doors open from 4pm onwards. Cover charge RM35 (after 7pm & non members)