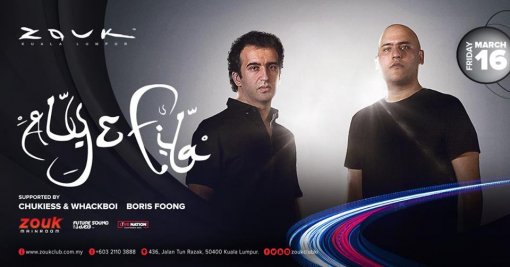 CHUCKIESS & WHACKBOI, BORIS FOONG
RM 75 + 1 DRINK AFTE R 12AM
As hot as the Sahara and standing every bit as tall as the pyramids, Aly & Fila are the single most successful group to have emerged from the spiritual lands of Egypt. They've built an immense, ultra-loyal in-country 
following and from that foothold, turntable Shamans,
Aly Amr Fathalah and Fadi Wassef Naguib went global.
For over a decade their spirited ta global.For over a decade their spirited take on the trance 
sound has captured the hearts, minds and imaginations of planet trance. With their whip-smart productions and sandstorm sonics, their
performances have raised the bar at some of the world's most recognised clubs. Comparably they've also ruled at EDM also ruled at EDM's biggest festivals – EDC – Las Vegas, Tomorrowland, Global Gathering,
Dance Valley, Creamfields, Ultra Music Festival.