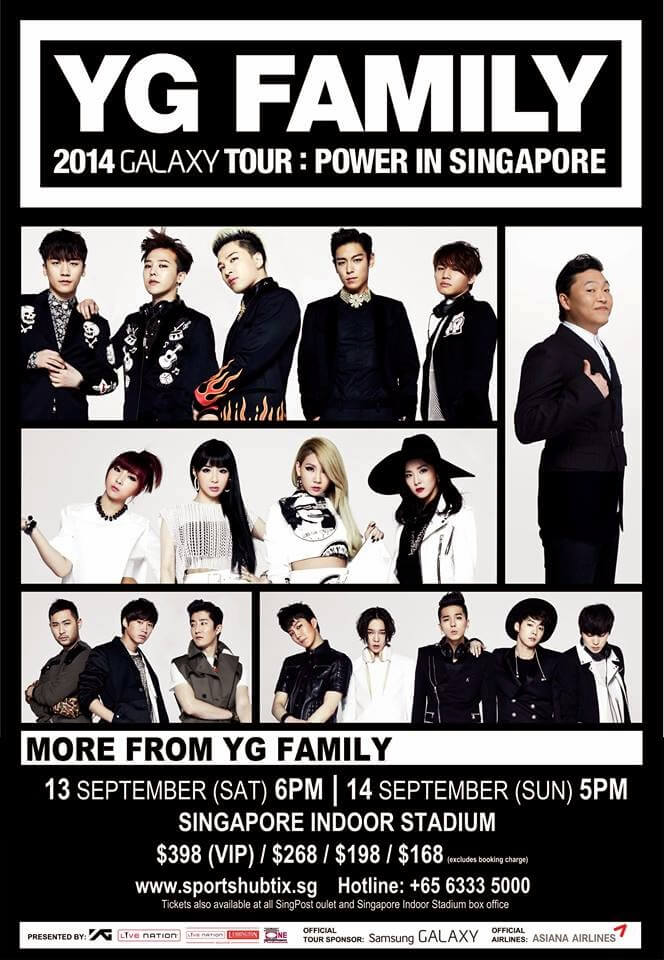 YG FAMILY – 2014 GALAXY TOUR: POWER IN SINGAPORE
FIRST TIME IN SINGAPORE! • BIGGEST KPOP STARS PSY, BIG BANG, 2NE1 TO HEADLINE 2 NIGHTS SHOW IN
SINGAPORE INDOOR STADIUM! • ANTICIPATE THE BIGGEST KPOP CONCERT FOR THIS YEAR!
YG Entertainment, the undisputed leader of K-POP music that houses top KPOP stars like PSY, BIG BANG, 2NE1,
and Samsung Galaxy together will be bringing the first "YG FAMILY 2014 GALAXY TOUR: POWER IN
SINGAPORE" to Singapore coming 13th and 14th September!
This is the first ever YG Family Concert in Singapore and YG Entertainment has prepared a star studded lineup
to deliver the most outstanding and powerful performances of 2014:
PSY, who created a worldwide 'Gangnam Style' craze by ranking #2 on the US Billboard 'Hot 10' for the first
time as a Korean Musician, and ranked No.26 with his recent new single 'HANGOVER' featuring American hip- hop legend Snoop Dog;
BIGBANG, the leading K-POP boy group who achieved unparalleled success by appearing before 80,00
audiences around the world on their 2012 Alive Galaxy Tour;
EPIK HIGH, who released their new single 'With You' in May in collaboration with top Chinese female artist
Zhou Bi Chang, and received high popularity by hitting No.1 on Youku New Singles Chart and Weibo Weekly 
Chart;
2NE1, the first Korean girl group to ever run their second World Tour [Al Or Nothing], showing their various
charisma and electrifying performances to Blackjacks al around the world.
WINNER, YG's most anticipated boy group since BIGBANG's debut 8 years ago has garnered attention since
their appearance at he Korea reality show "WIN :Who Is Next?"
Fans can also expect entertaining solo, group and
 collaboration stages by these YG artistes!
Coming September 13th and 14th enjoy the hottest Halyu stage at he YG FAMILY 2014 GALAXY TOUR: POWER
IN SINGAPORE, the one and only 2014 bigest KPOP concert in Singapore! 
Don't mis out on this once in a
lifetime experience! Tickets are priced from $168 and will go on sale 
from 19th July, 10AM at Sports Hub Tix
ticketing chanels. Aditonal details about he tour can be found at www.yg-galaxytour.com