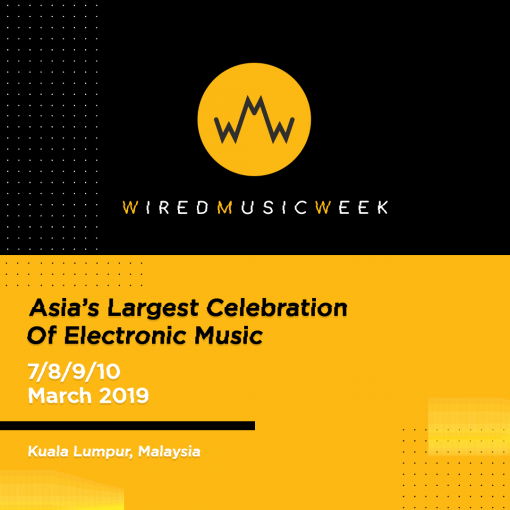 WIRED MUSIC WEEK 2019
SECOND EDITION 7/8/9/10 MARCH 2019 PHASE 1 LINE UP & TICKET SALES OFFICIAL PRESS RELEASE
 WMW PHASE 1 LINEUP
Phase 1 lineup for #WMW is up! ​Wired Music Week 2019 is going to be the music conference of the year in Malaysia and all of Asia. Definitely one you and your music enthusiast friends should not miss! WMW will have regional and international artists, panelists, and renowned record labels participating in our day conference sessions.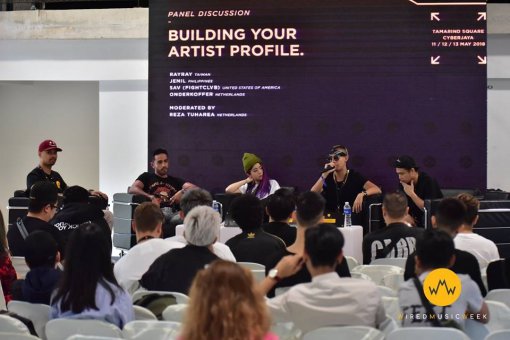 Activities include Panel Discussions & Keynote Presentations, Production Masterclasses & Workshops, Demodrop Sessions, Gear Exhibition & Masterclass, 1-On-1 Advice Session, Networking Opportunities, Side Activities with Artists, and more.
Don't forget about the night-time afterparty for all 4 days, as ​Wired Music Week 2019 will be taking over the whole Kuala Lumpur city when the sun sets from March 7-10!
PHASE 1 ARTISTS & SPEAKERS LINEUP (in alphabetical order)
  22 Bullets​​ \\ Artist \ Thailand
  Adam Sky​​ \\ Artist \ Australia
  Andy Samin ​​\\ A&R Manager \ Barong Family
  Dimatik​​ \\ Artist \ Australia
  Iichiro Noda​​ \\ CEO \ Tunecore Japan
  Irwan​​ \\ Artist \ Netherlands
  Josh​​ ​Bess​​ \\ Product Specialist \ Focusrite & Novation
  Jurrien​​ ​Romeijn​​ \\ A&R Manager \ Armada Music
  Justine​​ ​Servais​​ \\ International PR & Promotion Manager \ Armada Music
  Kuizz​​ \\ Artist \ Malaysia
  Marianne​​ ​Beitler​​ \\ International Licensing Manager \ Armada Music
  Mark​​ ​Yoo​​ \\ CEO \ MPLUS82
  Omid​​ ​Ghajar​​ \\ Sound Engineer \ Iran
  Rave​​ ​Republic​​ \\ Artist \ Singapore
  RayRay​​ \\ Artist \ Taiwan
  Rico​​ ​Greene​​ \\ Artist \ Netherlands
  Sihk​​ \\ Artist \ Indonesia
  Spuds​​ \\ Artist \ Malaysia
  Thijs​​ ​Van​​ ​Gils​​ \\ A&R Manager \ Armada Music
  Uberjakd​​ \\ Artist \ Australia
  Niels​​ ​Veen​​ \\ Marketing Director \ 2-Dutch Music Group
 ARTISTS & SPEAKERS' PROFILE
Ranked 146th in DJ Mag's Top 100 DJS 2018: THE NEXT 50. He has has many collaborations with numerous well known artists and releases via Revealed Recordings, Dharma Label and Spinnin' Records.
 A powerhouse in the dance music scene in Asia. He is touted as one of the leading producers & DJ's in the 
region, a globally recognised producer chalking up more Top 100 and Top 10 charted tracks than any other producer-DJ in Asia in recent times. Recently voted Top 3 EDM artist in Asia by EDM Droid and Asia EDM, he is regularly booked as a touring DJ for artists such as Taio Cruz and The Scissor Sisters. His radio show, The Guestlist now reaches over million monthly listeners around the world and features various guest artists such as Jay Hardway and Afrojack.
Andy Samin
A&R Manager – Barong Family. He is a retired member of the dj duo, Mightyfools who he toured with all over the world for over 10 years. Now working as an A&R at Yellow Claw's Amsterdam based record label Barong Family, he's always looking for the next big thing in music. Here's your chance to get discovered.
 Dimatik
Australian DJ & producer with residencies all over the world. He recently had a brand new collaboration, "Punjabi" with Timmy Trumpet. He is also the owner of Cinematik Recordings Label.
 Iichiro Noda
Tunecore Japan K.K. – CEO. Graduated from KEIO University, Japan in 2004. During the University era, worked at Culture of Asia Inc. as music event organizer and designer. He founded internet service company Wano Co.,Ltd with passion to cultivate sub-culture and creator of Japan. 2012 founded TUNECORE Japan K.K. as the joint venture with Tunecore
 Irwan
 One of the best open-format dj's in Europe, his unique style of scratching, singing and smoothly mixing up hip
hop, r&b, house and everything in between made him a crowd favourite. In 2016, he opened for Chris Brown's European Tour.
Josh Bess
 Focusrite & Novation Product Specialist. He is a music producer & educator from New York, currently based in Tokyo, Japan. Also, an Amazon Books Top Selling author for his book, Electronic Dance Music Grooves. Josh Bess has music production, composition, artist credits & original music releases with various companies & music labels.
Jurrien Romeijn
 A&R Manager has been with Armada Music for over 3 years. He handles the day-to-day business of Armada sub-labels such as Armada Electronic Elements & The Bearded Man. He also works with exclusive artists such as Lost Frequencies, Jan Blomqvist, Stereoclip, Pablo Nouvelle, Y.V.E. 48, Kav Verhouzer, De Hofnar, Dennis Kruissen, Sebastien, Frank Pole and more.
Justine Servais
 International PR & Promotions Manager for Armada Music. She has numerous years of PR and branding experience under her belt. In Armada Music, she has since worked with and for out-of-the-box acts such as Afrojack, Autograf, Borgore, Cedric Gervais, Crankdat, Fedde Le Grand, Lost Frequencies, Loud Luxury, Mokita, Morgan Page, NERVO, Showtek, Sultan + Shepard, Sunnery James & Ryan Marciano and more. She is also the co-founder of She Said So Amsterdam (a local branch of the global She Said So community), a carefully curated network of music industry professionals that strives for diversity and quality.
 Kuizz
Singer-songwriter & producer from KL, Malaysia. In 2017, he was the runner-up for Air Asia & Spotify's 'Dream Come True Campaign'. His biggest song to date, "Vibe" went on to do 4.5 million plays in the span of 5 months.
 Marianne Beitler
 International Licensing Manager joined Armada Music in January 2014. She is responsible for the exclusive international licensing and exploitation of the catalogue. On a day to day basis she is the main point of contact for Armada's international (label) partners and works on the international exploitation of releases by Armin van Buuren, Lost Frequencies, Loud Luxury, Afrojack, W&W and many more.
 Mark Yoo
 CEO – MPLUS82. He is a promoter and consultant in the Korean dance music scene. Mark aims to influence and unite people with the power of music. Currently, Mark has been more focused on developing local talents and helping them develop their own music styles.
 Omig Ghajar
  An experienced Audio Engineer and Record Producer in the Production Team of Sound & Music Design Department in Limkokwing University in Cyberjaya, Malaysia. He is currently working in Audio Production and Post-Production in Malaysia. He works with well known International brands in the Audio Industry such as Native Instruments, Soundiron, Ableton and etc. His scores provide a combination of his exciting, epic and hyper orchestration with different concepts that makes the audience get goosebumps when they listen to his tracks. He has given a variety of workshops in different events and venues.
Rave Republic
 Ranked 98th DJ in the world and No.1 DJ duo in Asia. This duo is signed to Warner Music and a featured Apple Music Producer. They have had 2 million streams on Spotify with peak chart position #2 on Viral Top 50. They hold residencies in various top clubs in the region and never disappoints with their very energetic sets. They are an official Ultra Music Festival Countdown DJ and have appeared on Ultra's stage multiple times.
RayRay
 Placed 2nd for DJaneMag Asia – SEA 2018 and 57th in the world 2018 Top 100 female DJS. She's been a hit in the circuit of major music festivals and DJ venues across Asia & around the world. She was crowned champion of the 2013 Red Bull Thre3style DJ competition and represented Taiwan in Toronto for the International DJ Championship.
Rico Greene
 Dutch singer/songwriter, composer & producer. He did pre-shows for concerts of Chris Brown, Ne-yo and other big names in the r&b/urban industry. In 2016 he was the official vocal coach for the Dutch version of talent show 'The X-Factor'.
Sihk
 Indonesian DJ & Producer who is known for his eclectic music. His explosive energy is well-known to any that have witnessed his devastating live sets. He recently signed with Yellow Claw's Barong Family, through which he released his debut EP and featured on their Shanghai Nights compilation. He produced Rich Chigga's "Who That Be," which amassed over 55 Million streams.
Spuds
 Justin and Zen, Malaysian DJ, songwriting and producer duo. Met in 2015 through their mutual passion for writing and producing music. Coming from vastly different musical backgrounds, they managed to further their creativity and musicality to another level. They have been putting out handfuls of remixes and original music on both Spotify and Soundcloud.
Thijs Van Gils
 Label Manager – Barong Family. After working at Spinnin' Records, he is now responsible for all releases on Yellow Claw's record label, Barong Family. As the label manager, he oversees all releases and marketing for the label.
Uberjakd
 Australian DJ and producer. He is also the owner of Jakd Recordings label and has freshly signed deals with Dim Mak, MOS Australia and Mixmash.
 Niels Veen
 Marketing Director 2-Dutch Music Group joins Wired Music Week 2019. Learn about how you can develop as an artist and build your brand and also how to get noticed on Spotify, in this day and age. Get the knowledge on how to fulfill your dreams!
 WMW TICKET SALES
Wired Music Week ​​encourages each individual to join the second edition of this journey with us. This event is catered to all with a passion and healthy interest in the electronic music community beyond Asia itself. Tickets sales have launched and ticket purchasers will be awarded with full access to ​Wired Music Week 2019​​, including panel discussions, workshops and masterclasses, demo drops, gear exhibition, pre and after-parties, and all other side activities held by the organizer.
Different ticket types are uniquely customized to suit your convenience and preferences. ​WMW 2019 passes include a range of options such as:
–  WMW Conference Pass (4 days)
–  WMW Pass (4 days + nights)
–  WMW Student Pass (3 days)
–  WMW Pass + Hotel stay (4 days + nights)
WMW 2019 ​​Tickets Link:​ ​http://www.wiredmusicweek.com/tickets
*all ​WMW​​ ticket sales are sold in 4 phases. Save up to RM75 by getting your tickets early!
For more information about ​WMW​​:​ ​www.wiredmusicweek.com